Hung pans proposal to remove Sun's portraits
Former deputy legislative speaker Hung Hsiu-chu (洪秀柱) yesterday lambasted a proposal to abolish a legal requirement that portraits of Republic of China (ROC) founding father Sun Yat-sen (孫逸仙) be displayed in public buildings, calling it an unwise move.
"It is an ill-considered proposal. Would you toss away the memorial tablets of your ancestors at home?" Hung said on the sidelines of a Lunar New Year greetings event at the KMT's branch in New Taipei City's Jhonghe District (中和) yesterday morning.
Hung was responding to reporters' questions on Democratic Progressive Party (DPP) Legislator Gao Jyh-peng's (高志鵬) proposal on Saturday to remove the requirement and drop Sun's designation as the nation's "founding father."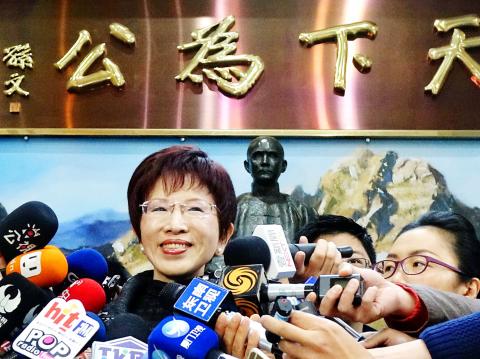 Former deputy legislative speaker Hung Hsiu-chu speaks to reporters as she registers for the party chairperson by-election at the Chinese Nationalist Party (KMT) headquarters in Taipei yesterday.
Photo: Fang Pin-chao, Taipei Times
Gao said Sun's portraits were reminiscent of one-party rule under the Chinese Nationalist Party's (KMT) authoritarian regime and ran against democratic principles.
Hung continued her criticism of Gao's plan after she arrived at KMT headquarters in Taipei in the afternoon to register her candidacy in the KMT's chairperson by-election.
"[Gao wants to] destroy all our founding father's portraits and keep them off public buildings. He thinks he does not need to care about who founded the ROC," Hung said.
"By the same logic, [Gao] also does not need to put his family's ancestral tablets at home or know where he came from or how his family came into being, but is that appropriate?" Hung said.
Other KMT chairperson hopefuls also took issue with the proposal.
Acting KMT chairperson Huang Min-hui (黃敏惠) said the plan was politically motivated and aimed at "eradicating the ROC" (去中華民國化), as she urged urging every citizen to safeguard the nation.
KMT Taipei City Councilor Lee Hsin (李新) said the proposal was a slap in the face for the DPP, which has claimed to be a defender of the ROC.
Meanwhile, social activist Lee Po-chang (李柏璋), a well-known Sunflower movement figure, voiced his discontent with Hung's remarks.
"Does anyone ever take out their family's ancestral tablets and ask everyone else to worship their ancestors with them?" Lee Po-chang wrote on Facebook.
"It is your job to worship your own ancestors," he said.
Asked about the issue, Legislative Speaker Su Jia-chyuan (蘇嘉全) said he respected Gao's ideas and the final decision.
"Some ideas may require improvement. However, when it comes to which aspects need changes, whether our past practices are wrong, and how improvement should be implemented, every lawmaker is entitled to submit their own proposals," Su said.
Su said he believed the nation's legislators possessed the wisdom to deliberate on such an issue and reach a conclusion that conformed to majority public opinion.
Additional reporting by CNA
Comments will be moderated. Keep comments relevant to the article. Remarks containing abusive and obscene language, personal attacks of any kind or promotion will be removed and the user banned. Final decision will be at the discretion of the Taipei Times.