CPA mulling mandatory building tile inspections
DEATH FROM ABOVE: Last month's cold front saw tiles peel off more than 30 buildings, in a phenomenon that saw a Taipei man killed last year by an 80kg stone slab
The Ministry of the Interior's Construction and Planning Agency (CPA) said it is mulling amendments to the Measures Governing Buildings' Public Security Inspection, Authorization and Application (建築物公共安全檢查簽證及申報辦法) to make inspection of ceramic tiles on a building's exterior mandatory.
The extreme cold front over the nation last month resulted in more than 30 incidents of tiles peeling off from buildings' exteriors in Taipei alone, the CPA said.
In March last year, a stone slab weighing 80kg peeled off from the exterior of the United Daily News building, killing 40-year-old Wang Cheng-fang (王成芳), who worked at a cram school in the building.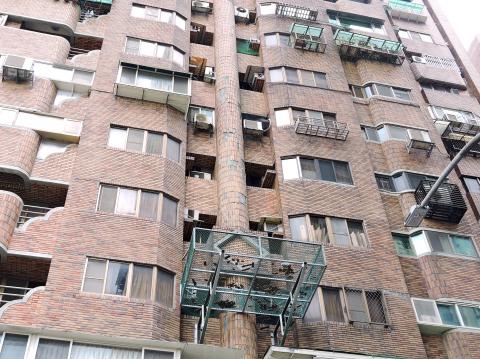 A residential building in New Taipei City with a net cage holding tiles that have fallen off the building's facade is pictured in an undated photograph.
Photo: Lai Hsiao-tung, Taipei Times
The agency's construction management division chief Kao Wen-ting (高文婷) said that older buildings across the nation often have an extra layer of tiles applied to their exteriors, but very few building management committees maintain their building's exterior.
The changes would make tiles on buildings' exteriors the third mandatory item to be inspected after fire safety and emergency escape facilities, as well as the maintenance of emergency facilities, the agency said.
The agency has decided that inspection of buildings' exteriors will be mandatory, but has yet to decide what items would be inspected, the inspection methods and which buildings would be subject to the inspections.
It is possible that buildings higher than 10 stories would be subject to regular inspections, with no dates yet agreed upon, while buildings that are older than 10 years would be considered for inspection every six years, Kao said.
Buildings older than 15 years would be inspected every five years, while buildings older than 30 years would be inspected every three years, Kao said, adding that buildings that had a history of tiles falling off would be placed on a watch list and inspected every year.
If these buildings have conducted reinforcing projects for their exteriors, the year count is reset on the inspection, Kao said.
The central government is to announce the standards for companies undertaking the inspections, with said companies first undergoing governmental trials, Kao said, adding that details of inspections would be left to the local governments due to differences in local building planning regulations.
The Taipei City Government has already announced a draft act on building's exterior inspections and management last year, which has cleared a first reading in the city council.
The city government is hoping to expedite the draft act's approval and have it approved by the end of this month's council sitting session.
Comments will be moderated. Keep comments relevant to the article. Remarks containing abusive and obscene language, personal attacks of any kind or promotion will be removed and the user banned. Final decision will be at the discretion of the Taipei Times.