DPP defends transition of power proposal
Democratic Progressive Party (DPP) legislators yesterday rebutted allegations from Chinese Nationalist Party (KMT) caucus whip Lai Shyh-bao (賴士葆) that DPP legislation on the transition of presidential power is unconstitutional, adding that recent frequent shifts in government positions show that such a law is necessary.
Lai said that legislation to regulate what an outgoing president may do, which items should be transferred to the incoming president and the legal status of the incoming president might be unconstitutional, since it would put restrictions on the presidential power granted by the Constitution.
DPP legislators Lee Chun-yi (李俊俋) and Chen Chi-mai (陳其邁) yesterday disagreed.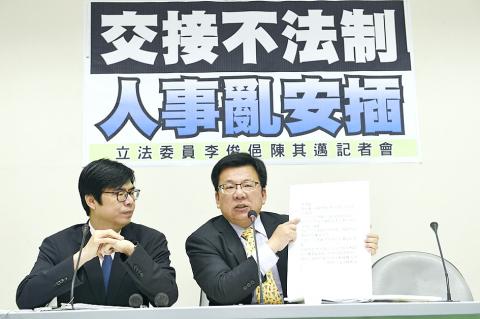 Democratic Progressive Party legislators Lee Chun-yi, right, and Chen Chi-mai yesterday hold a press conference in Taipei to comment on the lack of legislation regulating the transfer of government power.
Photo: George Tsorng, Taipei Times
"The reason why we need such legislation is that, after democratization, rotation of power has become usual, yet how the transition of power should proceed and what the outgoing president may or may not do are not regulated by any law," Lee said. "In 2008, the KMT also proposed similar legislation, which would freeze the outgoing president's power to sign treaties and agreements, as well as appointing officials."
"If the KMT believes it is unconstitutional, why did it previously propose a bill that is almost identical to ours?" Lee said.
Chen said the Civil Functionaries Appointment Act (公務人員任用法) also restricts the power of elected officials to make appointments.
"According to the law, an outgoing elected official may not appoint new officials between the election day and the inauguration of the successor," Chen said. "As the law does not apply to the president, what we are doing is filling in the loophole. If restricting presidential power is unconstitutional, why is the Civil Functionaries Appointment Act constitutional?"
Lee said that according to official statistics he obtained from the Executive Yuan's Directorate-General of Personnel Administration, there had been frequent personnel appointments and transfers between July last year and Jan. 29.
"There have been cases where specially appointed officials were turned into public servants, which means these people would be protected by legal tenure, and the new government would not be able to do anything to them," Lee said. "This is why we need an act to prevent such irregularities."
Comments will be moderated. Keep comments relevant to the article. Remarks containing abusive and obscene language, personal attacks of any kind or promotion will be removed and the user banned. Final decision will be at the discretion of the Taipei Times.