Presidential Office defends allies trip
'ARBITRARY, OUT OF TOUCH': The office did not confirm the report of a visit to Central America. Critics questioned the necessity and expense during Ma's 'caretaker period'
The Presidential Office yesterday downplayed criticism over a report that President Ma Ying-jeou (馬英九) is to visit some of the nation's diplomatic allies next month, saying a nation's diplomacy should always be uninterrupted.
"Diplomacy, of which the president is in charge, is a matter for all Taiwanese and it must remain continuous at all times. There is no such a thing as 'caretaker' in this matter," Presidential Office spokesman Charles Chen (陳以信) said in a news release.
Chen said that for a nation facing diplomatic difficulties such as Taiwan, it is vital to cement relations with its diplomatic allies, which is also essential to maintaining Ma's "viable diplomacy" policy.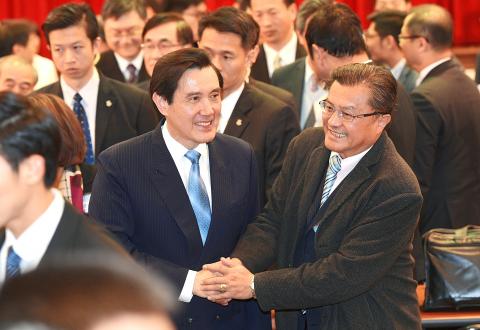 President Ma Ying-jeou, center, yesterday shakes hands with an attendee at a Chinese Nationalist Party (KMT) conference in Taipei to discuss the party's legislative agenda.
Photo: Chang Chia-ming, Taipei Times
The public should prioritize the national interest, Chen said, but declined to comment on the report.
However, he added that it is customary for the Ministry of Foreign Affairs to announce the president's overseas visits at an opportune time.
Chen was referring to a report by the Liberty Times (the Taipei Times' sister paper) yesterday, which cited an anonymous source as saying that Ma has decided to visit Taiwan's diplomatic allies late next month or early in April, in a final attempt to secure his legacy before his presidential term comes to an end on May 20.
While the ministry is still finalizing details of Ma's planned visit, the most likely destination would be Central America, the source was quoted as saying.
The article also quoted a member in the higher echelons of the Ma's administration, who spoke on condition of anonymity, as saying that many ministry officials were grumbling about the president's travel plans.
"They questioned the necessity of Ma spending tens of millions of dollars of taxpayers' money on an overseas visit during the caretaker period," the source was quoted as saying in the report.
"Making a visit that lacks urgency, legitimacy and necessity would only leave another footnote to Ma's legacy that depicts him as an arbitrary president, out of touch with the people," he said.
Ministry spokesperson Eleanor Wang (王珮玲) said that diplomacy is necessary to the nation's survival and international space, and that foreign policy should be consistent and continuous.
"There should not be a 'window period' in our foreign policy simply because of a transition of government," Wang said, adding that visits by the head of state to diplomatic allies have always been conducive to strengthening ties and mutual cooperation.
Wang said since an overseas visit by the president involves intricate details, even if such a plan exists, the ministry would announce the visit only after the planning had been completed.
Democratic Progressive Party Legislator Tuan Yi-kang (段宜康) yesterday asked Ma to exercise some self-constrain.
"During the caretaker period, a president should limit his own political actions, especially in the areas of diplomacy, cross-strait, and national defense," Tuan said.
Additional reporting by Loa Iok-sin
Comments will be moderated. Keep comments relevant to the article. Remarks containing abusive and obscene language, personal attacks of any kind or promotion will be removed and the user banned. Final decision will be at the discretion of the Taipei Times.