MAC minister has his own ambitions
SUMMING UP: Mainland Affairs Council Minister Andrew Hsia touted his achievements in the past year, which has pundits speculating on his professional future under Tsai
Mainland Affairs Council (MAC) Minister Andrew Hsia (夏立言) yesterday downplayed rumors that president-elect Tsai Ing-wen (蔡英文) is planning to keep him in his current post after her inauguration on May 20 due to his good performance.
"I have my own career plans and my duty is to do my job well before May 20," Hsia said in response to media questions about whether he is interested in retaining his post under the administration of Tsai, who headed the council between 2000 and 2004.
"I have my own plans for the future," Hsia said, without elaborating.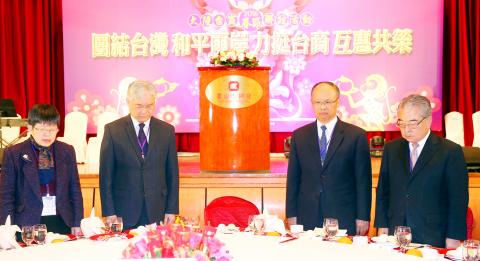 Mainland Affairs Council Minister Andrew Hsia, second left, and Minister of Economic Affairs John Deng yesterday lead a minute's silence at the Grand Hotel Taipei for the victims of the Feb. 6 earthquake.
Photo: CNA
Hsia, who took over the ministerial post from Wang Yu-chi (王郁琦) in February last year, made the remarks on the sidelines of an exchange event with China-based Taiwanese businesspeople in Taipei yesterday morning.
Rumors have been circulating since Tsai's presidential victory last month that she has not ruled out keeping Hsia in his post after she takes office, to ensure the maintenance of the cross-strait hotline established between the council and its Chinese counterpart, the Taiwan Affairs Office, on Dec. 30 last year.
The hotline, aimed at providing a more direct channel of communication across the Taiwan Strait, was allegedly "disconnected" for weeks after the elections.
In his opening remarks at yesterday's event, Hsia said Taiwan Affairs Office Minister Zhang Zhijun (張志軍) contacted him on the hotline to extend Chinese President Xi Jinping's (習近平) and Chinese Premier Li Keqiang's (李克強) condolences to victims of the Feb. 6 earthquake.
"Zhang also told me that China is willing to offer help at any time should we require it. I then expressed our gratitude on behalf of President Ma Ying-jeou (馬英九) over China's offer," Hsia said.
COMPASSION
Hsia said the magnitude 6.4 earthquake that wreaked havoc in Tainan has caused tremendous loss of life and destruction to property, killing 116 people and injuring at least 550.
"In the face of this disaster, every pillar of society has demonstrated compassion and their love for their fellow countrymen. I would also like to give special thanks to China-based Taiwanese businesspeople for their generous donations," Hsia said.
The council said donations from China for reconstruction work reached NT$73.1 million (US$2.18 million) yesterday.
Hsia said today would mark the first anniversary of his assumption of the ministership and that the past year had been fruitful for cross-strait relations, which witnessed the first meeting of cross-strait leaders in 66 years in November last year.
In addition to the cross-strait hotline, Hsia said progress has also been made following the Ma-Xi meeting, including the launching of a limited flight transit proposal on Feb. 1 that allows residents of three Chinese cities to transit at Taiwan Taoyuan International Airport for flights to a third country.
Hsia said he hoped the harmony and security across the Taiwan Strait could be maintained in the future based on the principle of reciprocity and dignity.
Comments will be moderated. Keep comments relevant to the article. Remarks containing abusive and obscene language, personal attacks of any kind or promotion will be removed and the user banned. Final decision will be at the discretion of the Taipei Times.