Flags set for half-mast next week
PREMIER'S ORDERS: Simon Chang yesterday meet with quake survivors in Tainan. He said the family of each victim would receive NT$1 million condolence money
Premier Simon Chang (張善政) yesterday told government agencies to fly flags at half-mast next week to honor the victims of the earthquake that struck early on Saturday last week.
Chang issued the directive while visiting injured quake survivors at National Cheng Kung University Hospital in Tainan.
He asked government agencies nationwide to fly the national flag at half-mast on Monday, the day when offices nationwide will reopen after the Lunar New Year holiday, and said a formal notice on the subject would soon be issued.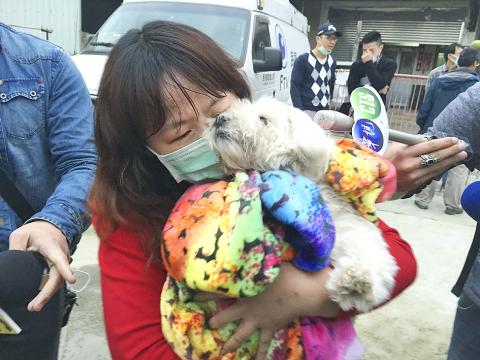 A seven-year-old Maltese named Le Le yesterday is held by a relative of its owner after it was rescued from the ruins of the Weiguan Jinlong complex in Tainan.
Photo: Johnson Lai, AP
The magnitude 6.4 quake that struck at 3:57am toppled more than 10 buildings, all in Tainan. The collapse of the 17-story Weiguan Jinlong apartment complex in Yongkang District (永康) has been the biggest source of casualties, causing 45 of the 47 confirmed deaths attributed to the quake so far, according to Tainan City Government statistics.
At least 548 people were injured in the quake.
As of noon yesterday, at least 94 people remained unaccounted for, all believed to be trapped in the Weiguan Jinlong ruins.
Chang later said that the government would pay NT$1 million (US$29,833) in "condolence money" to the families of each victim, and get the funds distributed as soon as possible.
The South Korean government has announced it will donate US$100,000 to Taiwan through the Red Cross to help the victims of the quake rebuild Tainan, the Ministry of Foreign Affairs said in a statement late on Tuesday.
The ministry said the Seoul government has instructed the Korean Mission in Taipei to send its deep condolences to Tainan and express its willingness to help people affected by the disaster and reconstruct the city.
The ministry said Taiwan was grateful for South Korea's generosity and had strongly felt its concern for people in Taiwan.
Canada has also sent its condolences.
In a statement posted by the Canadian Trade Office in Taipei on Sunday, Global Affairs Canada, which manages the country's diplomatic and consular relations, extended its sympathy to the families of the earthquake's victims.
The US state of Massachusetts, which in 1992 became a sister state with Taiwan, sent condolences to Tainan residents who suffered casualties and damage in the quake.
Comments will be moderated. Keep comments relevant to the article. Remarks containing abusive and obscene language, personal attacks of any kind or promotion will be removed and the user banned. Final decision will be at the discretion of the Taipei Times.