Earthquake Aftermath: Japan, US, China thanked for their aid
The government has extended its appreciation to Japan, the US and China for their generosity in the wake of the magnitude 6.4 earthquake that struck southern Taiwan early on Saturday, killing at least 41 people.
The Ministry of Foreign Affairs on Monday thanked Japan for pledging US$1 million to help with relief efforts and offering other forms of aid.
Japanese Cabinet Chief Secretary Yoshihide Suga said that Tokyo was donating US$1 million via its Red Cross to help with relief and reconstruction efforts.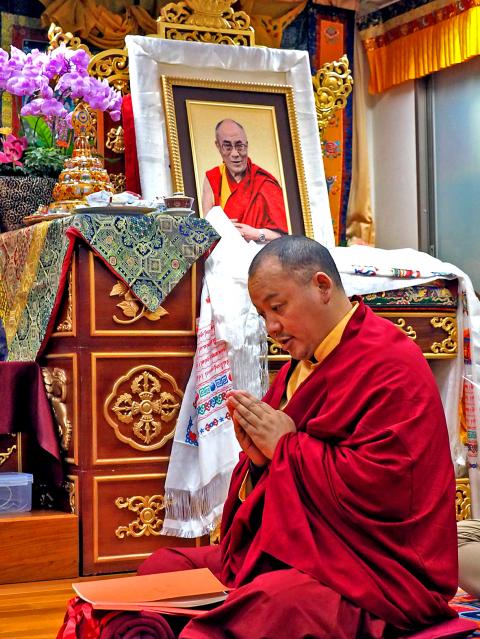 A Tibetan monk prays for the victims of Saturday's earthquake during a prayer meeting yesterday at the Dalai Lama's representative office in Taipei.
Photo: David Chang, EPA
Japanese Prime Minister Shinzo Abe also expressed sympathy for the earthquake victims in a message to President Ma Ying-jeou (馬英九) shortly after the quake struck; the message was delivered by Interchange Association, Japan Secretary-General Takashi Hamada.
Abe said in the message that the Japanese government was willing to provide Taiwan with human and material support.
A five-person Japanese rescue team is among the crews searching for the more than 100 people who are believed to still be trapped in the Weiguan Jinlong complex in Tainan's Yongkang District (永康).
The ministry on Sunday also thanked the US for donating US$500,000 and for its concern for victims of the disaster.
The American Institute in Taiwan said that the US Agency for International Development was giving the Red Cross Society of the Republic of China money to be used to provide immediate assistance to households affected by the quake.
The Mainland Affairs Council on Monday said that Beijing extended its condolences to the affected families and offered to provide necessary assistance through the Association for Relations Across the Taiwan Straits.
It also informed the Straits Exchange Foundation that it would donate 2 million yuan (US$304,059) to help with relief and reconstruction efforts, the council said.
The council said it had expressed "its heartfelt appreciation to the mainland side for its generosity and care for Taiwan's earthquake victims."
Comments will be moderated. Keep comments relevant to the article. Remarks containing abusive and obscene language, personal attacks of any kind or promotion will be removed and the user banned. Final decision will be at the discretion of the Taipei Times.