Taipei 101 flashes supportive message
Taipei 101 displayed messages on its facade yesterday evening to express solidarity with people affected by a deadly earthquake that struck southern Taiwan in the early hours of the morning.
The display on the top of the building read "Go Tainan" and "Bless Taiwan," and ran from 6pm to 10pm.
Taipei 101 said that the messages were displayed in tribute to those killed or injured in the earthquake and to boost the morale of the rescuers.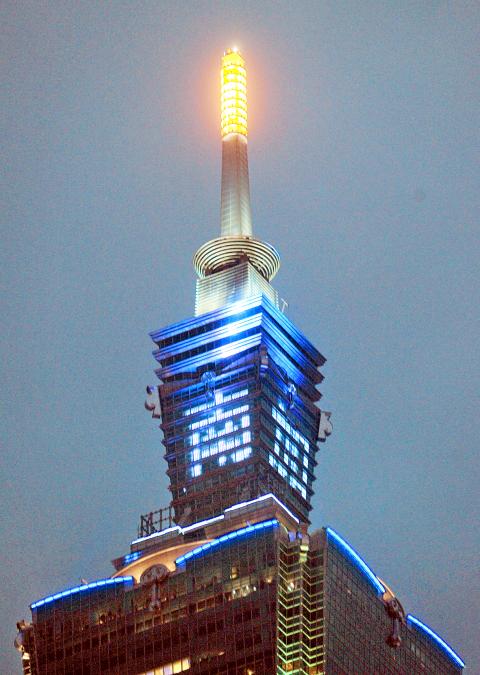 Words encouraging the residents of quake-stricken Tainan are displayed at the top of Taipei 101 last night.
Photo: CNA
In November last year, Taipei 101 was lit in red, white and blue, the colors of the French flag, to commemorate the victims of a series of coordinated terrorist attacks in Paris.
In 2009, the skyscraper was lit with the characters "Go Taiwan" to boost the morale of Taiwanese after the destruction caused by Typhoon Morakot.
Yesterday's magnitude 6.4 earthquake struck southern Taiwan at 3:57am, leaving at least 15 people dead and more than 400 injured as of press time last night.
Several buildings in Tainan collapsed in the earthquake, and last night rescue workers were still searching for people believed to be trapped in a collapsed building.
Comments will be moderated. Keep comments relevant to the article. Remarks containing abusive and obscene language, personal attacks of any kind or promotion will be removed and the user banned. Final decision will be at the discretion of the Taipei Times.