KMT chair vows reform amid criticism of review
REFORM OR BE REFORMED: Acting chairperson Huang Min-hui said reform is a must for the KMT, as its report on its losses was dismissed as cliches offered up by armchair warriors
Chinese Nationalist Party (KMT) Acting chairperson Huang Min-hui (黃敏惠) yesterday said the party would continue to reflect upon its defeats and solicit opinions from all sides, after the party's recent report reviewing its disastrous electoral performance drew criticism.
"The KMT once suffered a severe setback in the past and now it has sustained new blows. We must translate talk of reform into action," Huang said in response to media queries on the sidelines of a memorial service for shipping giant Evergreen Group founder Chang Yung-fa (張榮發) in Taipei yesterday morning.
Huang said she was aware of negative comments on the KMT's report on its performance in the Jan. 16 elections, released on Wednesday, which has been described as being riddled with cliches and opinions from "people sitting in the office," rather than actual candidates competing in the races.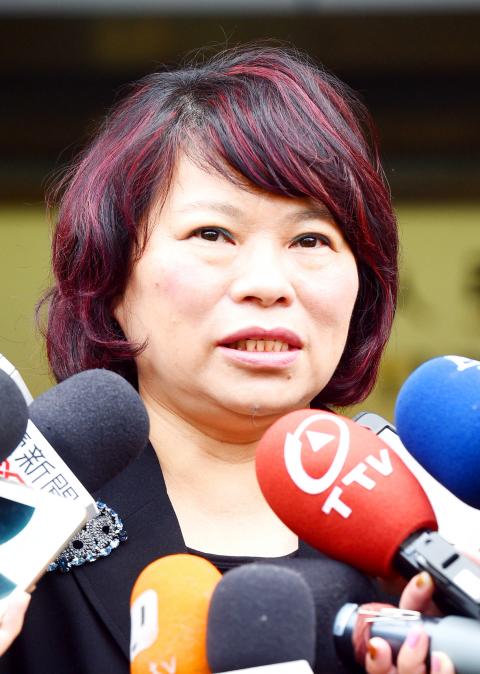 Chinese Nationalist Party (KMT) Acting Chairperson Huang Min-hui speaks to the media outside a memorial service for Evergreen Group founder Chang Yung-fa in Taipei yesterday morning.
Photo: Lo Pei-der, Taipei Times
"I promise I will continue to engage in self-reflection and to discuss the issue with supporters and grassroots party members. I will work to gather relevant information relentlessly, step-by-step," Huang said.
The report attributed the KMT's unprecedented losses in the elections to five major reasons: the failure of the KMT administration to win the public's trust; the party's inability to assuage critics painting its cross-strait policies as leaning toward China; divisions among KMT members in the party's selection of presidential candidates last year, the party's failure to win over netizens; and its unpopularity among younger voters.
It also blamed the incident involving Chou Tzu-yu (周子瑜), a Taiwanese K-pop singer allegedly forced by her South Korean management to apologize on Jan. 15 for briefly holding a Republic of China flag during a TV show, as the last straw.
Huang said the KMT must reflect on its bitter defeats and make improvements in areas where the party has not done enough.
"If we do not push for reforms today, we will be the ones being reformed tomorrow," said Huang, who is vying for KMT chairpersonship against five other hopefuls, including former deputy legislative speaker Hung Hsiu-chu (洪秀柱).
A two-term Chiayi City mayor, Huang applied for a leave of absence from her role as acting party chairperson after she announced her bid on Wednesday last week.
Huang and Hung are deemed the two most likely candidates to secure the chairpersonship, which was left vacant by New Taipei City Mayor Eric Chu (朱立倫), who resigned on Jan. 16 to take responsibility for the party's landslide defeat in the elections.
The KMT's chairperson by-election is scheduled for March 26. Only those who manage to collect signatures from at least 3 percent of all party members before Feb. 21 can officially register their candidacy.
Comments will be moderated. Keep comments relevant to the article. Remarks containing abusive and obscene language, personal attacks of any kind or promotion will be removed and the user banned. Final decision will be at the discretion of the Taipei Times.