Taiping ferry collision of 1949 to be memorialized
President-elect Tsai Ing-wen (蔡英文) yesterday attended a ceremony to commemorate the sinking of the ferry Taiping (太平輪), which ferried more than 1,500 people from China during the Chinese Civil War, promising that she would help accelerate the establishing of a memorial hall for the Jan. 27 1949 collision that killed more than 900 people
Keelung Mayor Lin Yu-chang (林右昌) and Democratic Progressive Party Legislator Cheng Li-chun (鄭麗君) also attended yesterday's memorial.
Families of those who lost their lives petitioned Tsai to set up an association and a memorial hall for the incident and the re-establishment or relocation of the monument, which is in a Keelung Naval Logistics Support Command campground.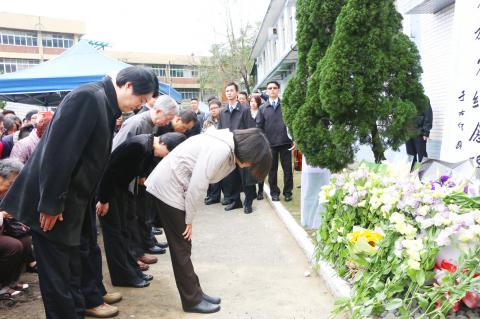 President-elect Tsai Ing-wen, center, bows with other guests yesterday at a memorial ceremony in Keelung commemorating the 67th anniversary of the sinking of the Taiping, known locally as the "Chinese Titanic."
Photo: Yu Chao-fu, Taipei Times
"Every year we come to the monument to pay our respects to our ancestors. After years of petitioning and with the help of Cheng, we have finally come to see the possibility of relocation of the monument in the near future," said Chang Chao-hsiung (張昭雄), the son of an accident victim.
"But a better option would be the re-establishment of the monument on the ground where it is now, as the monument already has a history of 67 years and many of the things left behind by the victims were buried here," Chang added.
Chang, in a news conference last week with Cheng to call on the government to respect the incident and pay heed to the calls of the victims' families, said an application needs to be filed for the families to visit the monument, adding that their application to establish a memorial association was rejected by the Ministry of the Interior and the petition for a relocation of the monument was not positively responded to by the Ministry of Culture or the Ministry of National Defense.
Cheng said she and the families would continue to ask for assistance from the Ministry of Culture in the re-establishment of the memorial monument on the site.
"The military campground could be transformed into a museum featuring the age of sailing," she added.
Tsai later wrote on Facebook that Taiwan is a nation with diverse ethnic groups.
"We have Aboriginal people and also different groups from different places. The substance of the term Taiwanese has become diversified and rich with time," she said.
"Jan. 27 [this year] was the 67th anniversary of the Taiping incident. The monument is a sign of Taiwan's spirit which is about the ocean and hope. I hope that future generations will always remember the rich immigration history of Taiwan and that it is a homeland to diverse ethnic groups," she said.
Comments will be moderated. Keep comments relevant to the article. Remarks containing abusive and obscene language, personal attacks of any kind or promotion will be removed and the user banned. Final decision will be at the discretion of the Taipei Times.