Cold front inflicts heavy losses
FARMING CASUALTIES: Agricultural product losses were estimated at NT$50.74 million, with 688 hectares of crops affected, according to the Council of Agriculture
Agricultural losses caused by the cold front enveloping the nation yesterday reached NT$132.15 million (US$3.93 million), according to Council of Agriculture estimates.
In an unprecedented move, the council said it would award cash grants to eligible municipalities and counties before the areas have undertaken the previously required damage assessments.
Tainan suffered the largest agricultural losses, estimated at NT$81.38 million, followed by Miaoli County with losses of NT$35.40 million and Hsinchu County with NT$4.38 million, the council said, citing figures valid as of 5pm yesterday.
Cabbages are blanketed in a thick layer of snow yesterday in Yilan County's Nanshan Community.
Photo: CNA
All Tainan's losses were in the farmed aquaculture sector, with products hardest hit including milkfish, groupers and orient clams.
Agricultural product losses were estimated at NT$50.74 million, with 688 hectares of crops affected, the council said.
Strawberries were the hardest-hit crop, suffering losses of NT$22.02 million, followed by oranges, ginger, wax apples and grafted pears, the council said.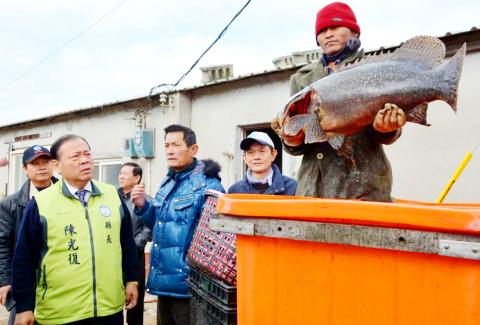 A fish farm worker yesterday auctions a grouper fish to cut losses arising from injury to fish due to cold weather.
Photo: CNA
"The low temperatures have caused disasters for farmers across the nation, which is very rare, but only 10 cities and counties have reported losses to the council today. The losses are expected to rise considerably in the next few days," Council of Agriculture Secretary-General Tai Yu-yen (戴玉燕) said.
There is a considerable time lag between the arrival of a cold front and the occurrence of an agricultural disaster, Tai said, calling on local governments to keep tabs on the current situation.
"Vegetable and fruit prices are expected to rise due to the cold weather, but the rise should be moderate, as winter is the harvest season for vegetables, so the supply should remain stable. No heavy losses have been reported in the major vegetable supplier counties of Changhua, Yunlin and Chiayi — ahead of the Lunar New Year holiday," she said.
Although the aquaculture sector suffered the biggest losses, it would have a limited impact on the supply of aquatic products, because the nation's fisherman can catch more wild fish to make up for the shortage in farmed products, she said.
The council said it would announce the municipalities eligible for cash grants and low interest rate loans as early as yesterday, so the relief should arrive before the Lunar New Year holiday, Tai said.
Comments will be moderated. Keep comments relevant to the article. Remarks containing abusive and obscene language, personal attacks of any kind or promotion will be removed and the user banned. Final decision will be at the discretion of the Taipei Times.