Tsai Ing-wen vows 'affordable' childcare system
REVERSING THE TREND: To combat an aging population and a decline in childbirth, the president-elect pledged 'high-quality and affordable childcare'
President-elect Tsai Ing-wen (蔡英文) yesterday promised that her incoming administration would set up an "affordable" childcare system to encourage young couples to have children, as the nation faces serious challenges from a declining birthrate.
Tsai was in Taichung as part of a tour of the nation to thank supporters and made the remarks during a speech while meeting gynecologist Lee Mao-sheng (李茂盛), who is one of Tsai's long-time supporters and the head of the Friends of Tsai Ing-wen organization. Tsai was there to witness the inauguration of his new after-birth care center.
"Taiwan is facing the serious challenges of an aging population and a decline in childbirth, and the government must respond to the challenges through policies," Tsai said. "I promise that the government will provide kids and young parents with universal, high-quality and affordable childcare."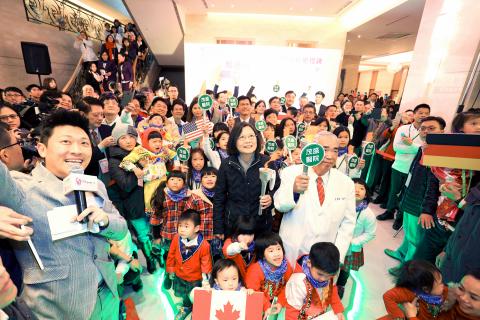 President-elect Tsai Ing-wen, center, and gynecologist Lee Mao-sheng, in white coat, pose with children conceived through artificial insemination at the Lee Women's Hospital in Taichung yesterday.
Photo: Su Meng-chuan, Taipei Times
"The central and local governments would work together to shoulder the mission and responsibility of taking good care of the next generation," she said.
Tsai said she thinks about childcare in Taichung because the city has the fastest-growing population of young people, with many moving to the area.
Tsai said the central government and the Taichung City Government would need close cooperation to make her promises and Taichung Mayor Lin Chia-lung's (林佳龍) promises a reality.
The Taichung mayor was part of the audience.
At a separate reception event for the campaign team in Taichung, Tsai urged the members to stay together even though election season is over.
"We should go to every corner of Taiwan and listen to the voices of the people and do our best to fulfill the people's wishes," Tsai said.
"There is no excuse for not doing the job well, because the Democratic Progressive Party [DPP] is [to be] in control of both the executive and the legislative branches of government," Tsai said. "The DPP regained trust from the people after seven or eight years and if we do not do our job well, the people would soon take back their trust."
Comments will be moderated. Keep comments relevant to the article. Remarks containing abusive and obscene language, personal attacks of any kind or promotion will be removed and the user banned. Final decision will be at the discretion of the Taipei Times.