KMT youth to hear leadership hopefuls
GROWING SUPPORT: About 2,000 people signed an online petition calling on the KMT to deal with contentious party assets and promote youth participation in politics
An initiative launched by the Chinese Nationalist Party's (KMT) younger members advocating party reform yesterday announced that it would hold a forum to invite KMT chairmanship candidates to answer questions regarding their plans for the party.
"We are going to hold a forum called 'Chairman, may I ask a question?' in the hopes of understanding the candidates' plans to reform the party and subject them to public scrutiny," the Grassroots Alliance said in a press statement.
The alliance said a number of KMT members have announced that they would run for party chairmanship, including Deputy Legislative Speaker Hung Hsiu-chu (洪秀柱), former KMT vice chairman Hau Lung-bin (郝龍斌) and Taipei City councilors Lee Hsin (李新) and Chung Hsiao-ping (鍾小平).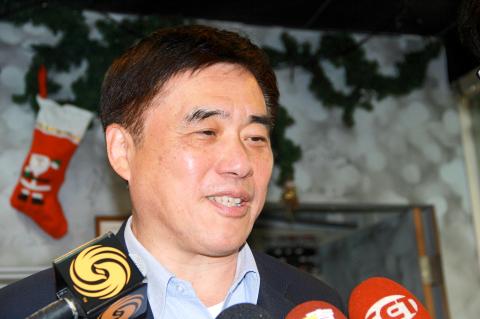 Former KMT vice chairman Hau Lung-bin talks to the press in Taipei yesterday.
Photo: CNA
However, their election manifestos are merely slogans and lack substantial plans for reform, the alliance said.
"That is why we will extend an open invitation to the party chariperson hopefuls and ask them to explain what kinds of reforms they plan to implement," the statement said.
The alliance was established by a group of younger KMT members on Tuesday following the party's defeat in the presidential and legislative elections on Saturday last week, with the goals of acknowledging young KMT members' subjectivity, transforming the KMT into a Taiwan-centric party and bringing the party in line with grassroots voters.
Among the alliance's members are former KMT Youth League Secretary-General Lee Zheng-hao (李正皓), former KMT International Information and Events Center director Hsu Chiao-hsin (徐巧芯) and KMT Youth League head Hsiao Ching-yan (蕭敬嚴).
As of yesterday, about 2,000 people had signed an online petition endorsing the alliance's reform plans, which include lowering the hefty registration fee for entering the KMT's chairperson elections, dealing with the party's contentious assets and promoting youth participation in politics.
The alliance said while the next KMT chairperson election, which is to be held on March 26, is the party's internal matter, the party's next chairperson would inevitably need to persuade the public to embrace the KMT again.
"For this reason, all interested individuals will be allowed to attend the forum instead of just KMT members. The event will be broadcast live over the Internet," the alliance said, urging the public to become a part of the KMT's reform movement.
Comments will be moderated. Keep comments relevant to the article. Remarks containing abusive and obscene language, personal attacks of any kind or promotion will be removed and the user banned. Final decision will be at the discretion of the Taipei Times.