Tainan speaker guilty of vote-buying: district court
JUSTICE FOR ALL: Lee Chuan-chiao vowed to file an appeal to see justice restored, while Tainan Mayor William Lai said the case had dragged on for too long
The Tainan District Court yesterday found Tainan City Council Speaker Lee Chuan-chiao (李全教) guilty of vote-buying during his campaign for city councilor in November 2014.
If the decision is upheld by the higher courts, Lee, a Chinese Nationalist Party (KMT) stalwart, faces being stripped of his positions as councilor and council speaker.
Lee's lawyers said they would appeal the ruling.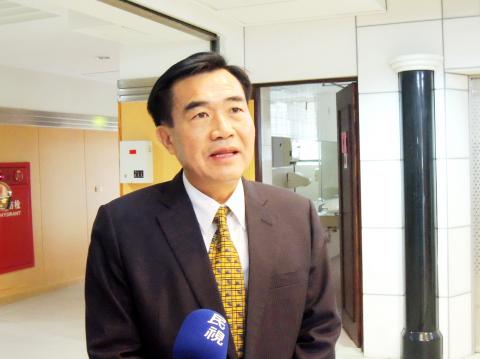 Tainan City Council Speaker Lee Chuan-chiao speaks to the media in Tainan yesterday.
Photo: Tsai Wen-chu, Taipei Times
In a statement issued through his lawyer, Lee Yung-yu (李永裕), Lee said: "It is regretful to receive news of the ruling, and I have decided to appeal to the higher courts. For the appeal, I will present the necessary evidence and I believe the higher courts will find me not guilty and give me justice."
Tainan Mayor William Lai (賴清德), who boycotted the city council for months last year in protest against Lee Chuan-chiao's election as speaker, said the court's verdict was not unexpected, but the process had dragged on for too long.
"According to election law, the first ruling should take only six months, and the second ruling should wrap up within one year. However, Lee [Chuan-chiao] has used many ploys to play games with the justice system, and the district court condoned his actions and let the case drag on for more than a year. Lee [Chuan-chiao's] perversion of the judicial process has damaged our democracy," Lai said.
"This kind of belated justice is not justice at all," he added.
"We hope the higher courts will not be manipulated by Lee [Chuan-chiao]. They must expedite the appeal trial to reach a prompt verdict, so as to restore justice and fairness to society and to people affected by the case," he said.
Tainan City Council officials also issued a statement saying that Lee Chuan-chiao is to continue as speaker and councilor unless he is found guilty by a higher court and his election is nullified.
Lee Chuan-chiao's top aide, Huang Teng-ching (黃澄清), along with Lee Li-hua (李麗華) and Kang Ching-liang (康清良) — described as two vote-brokers working for the speaker — were found guilty of vote-buying on July 31 last year.
Huang was sentenced to five years in prison, while the two vote-brokers were given suspended sentences of two years and 19 months respectively.
Their lawyers have appealed those rulings.
Comments will be moderated. Keep comments relevant to the article. Remarks containing abusive and obscene language, personal attacks of any kind or promotion will be removed and the user banned. Final decision will be at the discretion of the Taipei Times.