Justice and legal reform to be NPP priorities: Hung
COLD CASES: The DPP's Wellington Koo said that unsolved controversial cases should be reopened and solved to help bring about transitional justice
Legal reforms and transitional justice are likely to be priorities for the New Power Party (NPP) in the new legislative session, NPP legislator-elect Hung Tzu-yung (洪慈庸) said yesterday.
She and members of the Judicial Reform Foundation accompanied Wang Tsai-lien (王彩蓮), the mother of Chiang Kuo-ching (江國慶), to petition the Taipei District Court to order the Taipei District Prosecutors' Office to file charges against former minister of defense Chen Chao-min (陳肇敏) for his role in Chiang's wrongful execution.
"I believe I bear certain responsibilities, which I am obligated to complete — just like today's case, the issue of human rights within the military is something I will work hard on in the future," said Hung, the sister of late corporal Hung Chung-chiu (洪仲丘), who rose to prominence after her brother's controversial death in July 2013, just days before his discharge from compulsory military service.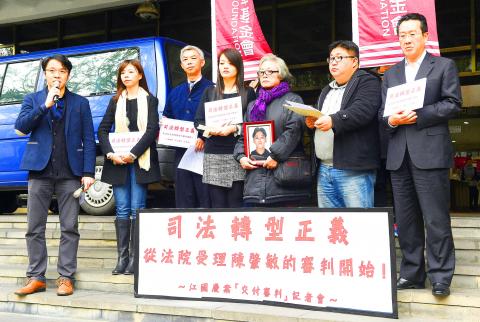 Members of the Judicial Reform Foundation hold a news conference calling for transitional justice with New Power Party legislator-elect Hung Tzu-yung, second left, sister of the late army corporal Hung Chung-chiu, Democratic Progressive Party legislator-elect Wellington Koo, right, and Wang Tsai-lien, third right, mother of Chiang Kuo-ching, who was wrongfully executed and posthumously acquitted for the rape and murder of a girl, outside the Taipei District Prosecutors' Office yesterday.
Photo: Chen Chih-chu, Taipei Times
"I feel strongly that legal reform and transitional justice are areas in which we have to keep working and will be a key part of our future efforts," Hung Tzu-yung said, adding that the party's legislators-elect are still discussing which committees to angle for.
She expressed her regret that the District Prosecutors' Office continued to refuse to file charges following multiple appeals by Chiang's family to the Taiwan High Prosecutors' office.
Chiang was acquitted of the rape and murder of a girl in a 2011 posthumous trial after the Control Yuan found he had been tortured by military investigators.
Hung Tzu-yung said Chen should be required to take responsibility, as the Control Yuan found that he interfered in the ruling of the military court, which convicted Chiang and ordered his execution.
Chen was then head of the Air Command, in which Chiang was performing his military service.
Democratic Progressive Party (DPP) legislator-elect Wellington Koo (顧立雄) said Chiang's case showed the need to reopen investigations into controversial cases, with the aim of bringing about transitional justice.
"If all we have done since the 228 Incident is face victims without discovering the real perpetrators, can we really say good-bye to the past and move forward?" he said. "We need to turn over chests and cabinets to dig out all the documents and files to discover how these cases unfolded and who should take responsibility."
The 228 Incident refers to the then-Chinese Nationalist Party (KMT) authoritarian regime's crackdown on a nationwide uprising, which began on Feb. 28, 1947. It is estimated that tens of thousands of Taiwanese were killed in the prelude to nearly four decades of martial law.
Comments will be moderated. Keep comments relevant to the article. Remarks containing abusive and obscene language, personal attacks of any kind or promotion will be removed and the user banned. Final decision will be at the discretion of the Taipei Times.