Do not blame KMT for loss: Chu
ALL HIS FAULT: Chu said he would formally resign at a KMT Central Standing Committee meeting and urged the party to do more to attract young people
Outgoing Chinese Nationalist Party (KMT) Chairman Eric Chu (朱立倫) yesterday urged supporters not to blame other KMT members for the party's unprecedented loss in Saturday's presidential and legislative elections, saying he must take full responsibility.
Chu made the remarks on the sidelines of a morning tea gathering for the KMT's voluntary workers at his national campaign headquarters in Taipei to thank them for their dedication during the campaign.
"I should shoulder all responsibility. It is me who ought to take the largest share of responsibility," he said when asked to comment on some voters' belief that President Ma Ying-jeou (馬英九) and Legislative Speaker Wang Jin-pyng (王金平) should be held accountable for the KMT's landslide defeat.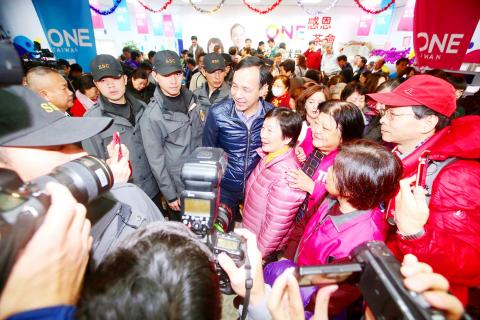 Supporters yesterday pose for photographs with Chinese Nationalist Party (KMT) presidential candidate Eric Chu, center, at a tea party for volunteer campaign workers at his campaign headquarters in Taipei.
Photo: CNA
As for whether he would consider staying on, Chu said his resignation took effect immediately.
"Out of respect for the KMT Central Standing Committee, I will formally deliver my resignation at an extraordinary meeting of the committee tomorrow [today]. However, technically, I have stepped down as KMT chairman," Chu said.
Chu announced his resignation after conceding defeat to Democratic Progressive Party (DPP) Chairperson Tsai Ing-wen (蔡英文) in the presidential election by 3.08 million votes.
The committee is set to appoint a vice chair to serve as interim chairman until a chairmanship election is held, which must be done within three months.
As for whom among the hopefuls was most competent to replace him, Chu said he would respect the interim chairman's arrangements.
Chu said the party's next steps should be to cultivate more local-level politicians that would attract younger voters to the party, as well as to improve cooperation within the pan-blue camp.
However, there appears to be division in the party about Chu's stepping down.
KMT Legislator Alex Tsai (蔡正元) yesterday posted a picture on Facebook of a proposal allegedly drawn up by Central Standing Committee members that is to be tendered at today's meeting and wrote: "What a group of helpless ass-kissers."
The proposal urges Chu to remain chairman, saying that he is not to blame for the election losses and he is still the person best-equipped to lead the KMT back into power.
KMT Legislator Lo Shu-lei (羅淑蕾) said on a political talk show that she was not impressed by Chu's concession speech and that she only felt sorry for her peers who lost their seats.
"Chu's performance during the election was simply preposterous. His campaign strategies and tactics were failures. He was also reluctant to accept others' advice and made a mess in his replacement of Deputy Legislative Speaker Hung Hsiu-chu (洪秀柱) as the KMT's candidate," Lo said. "That is why Chu must take the largest share of responsibility for the party's failure."
Comments will be moderated. Keep comments relevant to the article. Remarks containing abusive and obscene language, personal attacks of any kind or promotion will be removed and the user banned. Final decision will be at the discretion of the Taipei Times.