ELECTIONS: Soong concedes third defeat, congratulates Tsai
MIXED FEELINGS: PFP supporters appeared ambivalent, with some speaking of their disappointment with Taiwanese politics and others saying that they still have hopes for the future of the nation
People First Party (PFP) presidential candidate James Soong (宋楚瑜) yesterday thanked supporters as he conceded defeat and congratulated the Democratic Progressive Party's (DPP) Tsai Ing-wen (蔡英文) on her victory.
Asked if the PFP would work with other parties in the legislature, Soong said that it had not ruled out the possibility, but it is not likely to form a partnership with either the DPP or the Chinese Nationalist Party (KMT).
"The party will focus on the welfare of the people rather than concentrate on forming an alliance with any party," he said.
People First Party presidential candidate James Soong casts a ballot yesterday in New Taipei City's Linkou District.
Photo: Chang Chia-ming, Taipei Times
"I have to reiterate here that we will not make the orange [the PFP's color] green again and nor would we work with a party espousing rotten policies," he added.
Yesterday's loss was Soong's third defeat in a presidential election. He first ran as an independent in 2000 after failing to obtain the KMT's nomination.
He formed the PFP after that loss, but in 2004, he ran for vice president on the KMT's ticket alongside former vice president and then-KMT chairman Lien Chan (連戰). His second presidential bid was in 2012.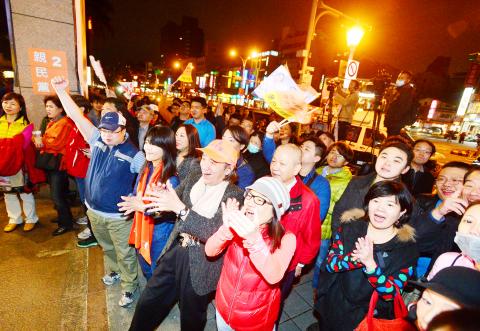 A small crowd of supporters of People First Party presidential candidate James Soong yesterday gathers outside his campaign headquarters in Taipei.
Photo: Wang Yi-sung, Taipei Times
PFP supporters expressed mixed feelings about the results, with some speaking of their disappointment about politics in Taiwan and others saying that they still have hopes for the nation's future.
A teary high-school teacher surnamed Huang (黃) said that she does not know how to teach her students following the result.
"As a teacher, I told my students that they have to choose moral and capable candidates. Of the candidates, I think Soong is the most capable leader," she said. "The result shows that Taiwanese voters still only choose from the pan-green camp or the pan-blue camp. They do not look for leadership, and this probably would not change in the near future."
Huang said she has no hope for the nation under Tsai's leadership.
"Tsai cannot seem to articulate her cross-strait policies. She kept saying that she would negotiate with all parties to solve problems and seek Taiwan's independence. Can she actually deliver that?" Huang said.
An electrical engineer surnamed Chen (陳) said he voted for the DPP's presidential candidates in 2004, 2008 and 2012, but chose to support Soong this time.
"Both the pan-green and the pan-blue camps have had the chance to rule the nation ... it is time to hear from a different voice," he said.
His friends who are pro-green camp supporters voted for Tsai, but his friends in the pro-blue camp chose not to vote for anyone, Chen said.
"The KMT's decision to replace Deputy Legislative Speaker Hong Hsiu-chu (洪秀柱) as presidential candidate at the last minute was the main reason that they decided to sit out in the election," he said.
Chen also said he thinks the Chou Tzu-yu (周子渝) incident had an effect on the elections, because the media focused on her story yesterday.
He was referring to the Taiwanese member of the South Korean girl group TWICE, who released a video late on Friday apologizing for waving a Republic of China flag alongside a South Korean flag on a South Korean TV show, which drew vituperative criticism from Chinese netizens.
The DPP used the incident to its advantage, he said.
"We have to respect the public's decision," Chen said. "I hope Tsai would not keep blaming [President] Ma Ying-jeou (馬英九) if she cannot fix the pressing economic issues facing the nation."
Comments will be moderated. Keep comments relevant to the article. Remarks containing abusive and obscene language, personal attacks of any kind or promotion will be removed and the user banned. Final decision will be at the discretion of the Taipei Times.