Veterans' village restored by youth
The Ministry of Education's youth development administration granted Yunlin County camp volunteers a subsidy for their work last year revitalizing the now-deserted Jianguo Veterans' Village (建國眷村) in Huwei Township (虎尾).
Jianguo Village Revitalization Association director-general Lu Yun-hsiang (魯紜湘) said the village is a large complex of four communities and had once been home to more than 5,000 veterans and their families. The village was mostly deserted in 2007, with only a few families still living in the area, she said.
Some of the buildings were dormitories originally built for Japanese naval air group pilots during the Japanese colonial era, Lu said, adding that since the Chinese Nationalist Party (KMT) came to Taiwan from China, the village had been converted into units for veterans and their families.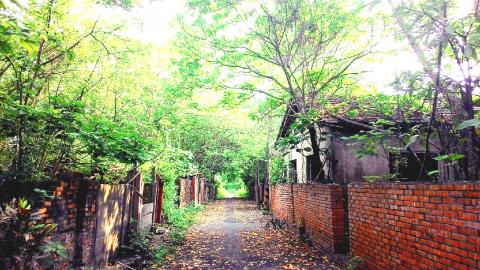 The abandoned Jianguo Vetrans' Village in Yunlin County's Huwei Township is pictured on Thursday last week. Some local residents have launched a campaign to preserve the disused village.
Photo courtesy of the Ministry of Education
The village also has underground bunkers with telecommunication facilities, which were installed after the KMT came to Taiwan, Lu said.
"The village has seen cruel times, but it is modern history. It should not be forgotten," she said.
Youth group member Liu Chih-chien (劉志謙) said that while efficient use of the land is a good thing in the eyes of governments, it means great changes to the living conditions and relationships of the few residents in the area.
"With our efforts, we hope to bring the village back into the spotlight," Liu said.
Yunlin County Government Cultural Affairs Director Lin Yuan-chuan (林源泉) said the county government has listed the village as a "cultural settlement."
The county government is applying to the Ministry of Culture and the Ministry of the Interior for funding to conserve the village and revitalize the area, Lin said.
"The village and its history, especially its ties to Japanese naval air groups — many of which became Kamikaze pilots — are collective memories of the Huwei townsfolk," Huwei resident Lin Hung-wen (林鴻文) said, adding that if the county government could conserve the area, he would be glad to see it.
During the latter stages of the war, the Japanese Empire resorted to suicide attacks on the Allied forces in the Pacific — mainly US forces — after having lost its aerial superiority in the theater following a crippling loss at the Midway Atoll.
Comments will be moderated. Keep comments relevant to the article. Remarks containing abusive and obscene language, personal attacks of any kind or promotion will be removed and the user banned. Final decision will be at the discretion of the Taipei Times.