Shoe-shaped chapel aims to attract couples, visitors
The Southwest Coast National Scenic Area has constructed a glass wedding chapel, 17m tall and 11m wide, to attract couples to hold their nuptials in Chiayi's Budai Township (布袋).
According to the area's administration, construction of the chapel, which has 320 massive blue glass panels, cost NT$23.17 million (US$688,211) and took four months to complete.
Designed to resemble a high-heeled shoe, the chapel is to contain 100 installation art pieces geared toward female visitors, with 71 pieces already completed, the administration said, adding that all of the displays are family friendly and that photography is welcome.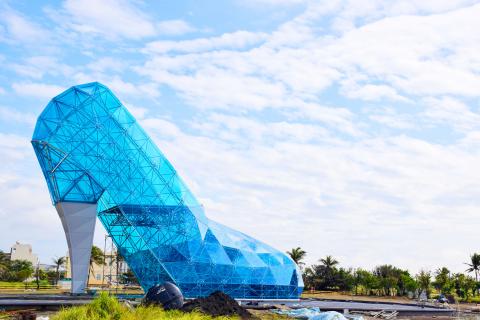 The chapel, designed to resemble a high-heel shoe, is pictured on Monday in Chiayi County. It is due to be completed in time for the Lunar New Year break.
Photo: Wu Shih-tsung, Taipei Times
The chapel's unique design is meant to commemorate the history of "blackfoot disease" — a gangrenous condition once endemic along the southwest coast, treatment of which often required amputation, robbing many women of the chance to wear heels at their weddings — and to evoke a sense of hope and optimism, the administration said.
The administration is holding a naming competition for the chapel on the Southwest Coast National Scenic Area's Facebook page, it said, adding that participants are eligible to win prizes.
The chapel is part of a plan to develop portions of the scenic area to host romantic escapes, family outings and wedding ceremonies, according to the administration's mission statement on its official Web site.
Comments will be moderated. Keep comments relevant to the article. Remarks containing abusive and obscene language, personal attacks of any kind or promotion will be removed and the user banned. Final decision will be at the discretion of the Taipei Times.