ELECTIONS: James Soong cries as he remembers Chiang Ching-kuo
People First Party presidential candidate James Soong (宋楚瑜) yesterday visited former president Chiang Ching-kuo's (蔣經國) mausoleum in Taoyuan's Touliao (頭寮) to mark the 28th anniversary of Chiang's death tomorrow.
A teary-eyed Soong — who served as a personal secretary to Chiang from 1978 to 1981 — said he visited the mausoleum to "rediscover Chiang Ching-kuo's stance, which is that the greatest thing in the world is the people."
Soong added that he also wanted to recover the "ideals of the [Chinese Nationalist] Party [KMT] as [KMT founder] Sun Yat-sen (孫逸仙) conceived it."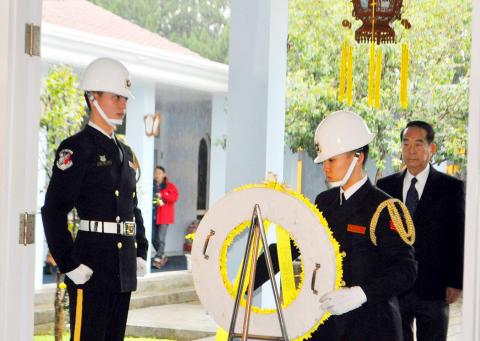 People First Party presidential candidate James Soong visits former president Chiang Ching-kuo's tomb yesterday in Taoyuan's Dasi Township.
Photo: Li Jung-ping, Taipei Times
When asked to comment on KMT presidential candidate Eric Chu's (朱立倫) plan to visit the mausoleum in the next few days, Soong said: "It does not matter how often one worships at the temple if there is no Buddha in his heart," adding that politicians must be mindful of the public.
"This is why after eight years of President Ma Ying-jeou's (馬英九) administration, the KMT is held in contempt by the public," he added.
"There was no follow-up for policies and no supervision for officials, and [as a result] during Ma's administration an astounding number of county commissioners, city mayors and department directors landed behind bars, showing there are many temptations for officials and a nation's leader must not skim over the job of supervising subordinates," Soong said.
"It is a very extraordinary thing for a public official not to be tempted," he added.
Later yesterday, the former Taiwan provincial governor also took part in campaign events in Taoyuan, attempting to woo voters by touting his administrative experience.
Soong is scheduled to hold an international press conference today in Taipei to elaborate on his campaign platform.
Comments will be moderated. Keep comments relevant to the article. Remarks containing abusive and obscene language, personal attacks of any kind or promotion will be removed and the user banned. Final decision will be at the discretion of the Taipei Times.