ELECTIONS: Chu vows to 'fight until the last minute' in Tainan
NOT GIVING UP: The KMT presidential candidate spent yesterday campaigning in the southern city and spoke at an evening rally attended by about 15,000 party supporters
Chinese Nationalist Party (KMT) presidential candidate Eric Chu (朱立倫) yesterday canvassed the streets of Tainan, seizing the last Sunday before Saturday's presidential and legislative elections to solicit votes in the traditional pan-green camp stronghold.
Accompanied by KMT legislative candidates Chen Shu-hue (陳淑慧) and Lin Yi-huang (林易煌), who are competing in Tainan's fourth and fifth constituencies respectively, Chu began his procession in the city's Yongkang District (永康), the hometown of his wife, Kao Wan-chien (高婉倩).
"We will make a maximum effort campaigning in our most challenging electoral constituency. I believe the many young and promising [legislative] candidates the KMT nominated will also fight until the last minute," Chu said when asked how the KMT planned to boost its election prospects in a city dominated by the Democratic Progressive Party (DPP).
Chinese Nationalist Party (KMT) supporters yesterday greet the party's presidential candidate Eric Chu, center, during a campaign event in Tainan.
Photo: CNA
Chu said that he and his party comrades would not give up any constituencies and would strive to grab as many legislative seats as possible.
Chu was then asked whether the case of five missing men associated with the Hong Kong-based publisher Mighty Current, which specializes in books critical of the Chinese Communist Party leaders, could incite anti-China sentiment in Taiwan and, in turn, jeopardize his campaign.
"I have emphasized before that democracy and freedom are what Taiwan insists on. All the people of Taiwan probably share this position," Chu said, dismissing that the Hong Kong case has any direct bearing on the upcoming elections.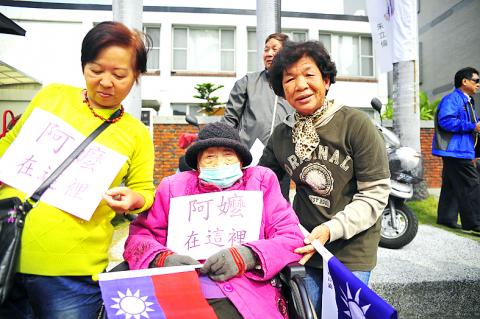 Elderly women, one of them in her 90s and using a wheelchair, yesterday turn out to support Chinese Nationalist Party (KMT) presidential candidate Eric Chu in Tainan.
Photo: Wang Chieh, Taipei Times
Asked whether he chose not to wear a bulletproof vest during campaign events, given that the March 19, 2004, shooting occurred in Tainan, Chu said he believes in Taiwanese kindness and the public's respect for democracy.
The March 19 shooting came on the eve of the 2004 presidential election, in which a bullet grazed then-president Chen Shui-bian's (陳水扁) abdomen and another injured then-vice president Annette Lu (呂秀蓮) as they were canvassing for votes in Tainan.
Chu then proceeded to the city's East, South and Anping (安平) districts, where he was greeted by a handful of supporters on the streets, who zealously waved Republic of China (ROC) flags and Chu's campaign flags while giving the motorcade a thumbs up, a gesture symbolizing Chu's No. 1 placement on the ballot.
However, some people waved DPP presidential candidate Tsai Ing-wen's (蔡英文) campaign flags as Chu's motorcade drove by, with some giving Chu a thumbs down and shouting: "Eric Chu, you are not going to win."
The second part of Chu's campaign afternoon started in the city's North District, with KMT legislative candidate Hsieh Lung-chieh (謝龍介) joining the motorcade, which concluded in front of Chu's Tainan campaign headquarters in the city's West Central District.
Chu encountered a minor hiccup on the road, when he found his vehicle procession briefly without police escort as it reached the intersection of Jhongyi Road Sec 2 and Jhongjheng Road.
It is assumed that there was a shortage of on duty police officers as all three presidential candidates were campaigning in Tainan yesterday morning.
In addition, Chu's motorcade was forced to stop at a red light two times, reportedly due to poor traffic control management.
Chu's Tainan campaign culminated with a large rally last night, attended by at least 15,000 party supporters, according to KMT estimates.
Surrounded by Kao Wan-chien, Deputy Legislative Speaker Hung Hsiu-chu (洪秀柱) and the KMT's legislative candidates in Tainan, Yunlin and Chiayi, Chu said nearly 200,000 people took to Taipei's streets on Saturday to call for stability, cross-strait peace and economic development.
"Today, many people living in Yunlin, Chiayi and Tainan also came out to attend this rally. People power is key to the upcoming elections," Chu said.
He said that the DPP opened the nation's gate to scores of Chinese agricultural products during its eight-year rule between 2000 and 2008, while the KMT managed to boost Taiwan's farm products to China by 30 times over the past eight years.
It is the DPP that has sold out Taiwan, Chu said, citing Tsai's ostensible inclination to set the nation's standards for ractopamine residue in pork products in accordance with international standards.
"Tsai has begun selling people's health even before she is elected president. People must come out to support Eric Chu," Chu said.
Chu's father-in-law, former Taiwan Provincial Assembly speaker Kao Yu-jen (高育仁), also urged voters to cast their votes for Chu, saying: "The reason behind Taiwan's sluggish economy in the past 16 years is that the nation has been ruled by lawyers who do not know much about the economy."
Comments will be moderated. Keep comments relevant to the article. Remarks containing abusive and obscene language, personal attacks of any kind or promotion will be removed and the user banned. Final decision will be at the discretion of the Taipei Times.