Taipei countdown features singers, mayor
Hundreds of thousands of people flocked to Taipei's Xinyi District (信義) on Thursday night for the city government's New Year's Eve countdown party and to celebrate the new year.
The star-studded party was organized by the Taipei Department of Information and Tourism and a coalition of private enterprises, including Taipei 101, SET-TV media group and Union Bank of Taiwan.
Taiwanese techno diva Jeannie Hsieh (謝金燕) appeared before the crowd on an elevator platform and began the event by performing one of her hits, sending the audience gathered in the plaza in front of Taipei City Hall into a frenzy.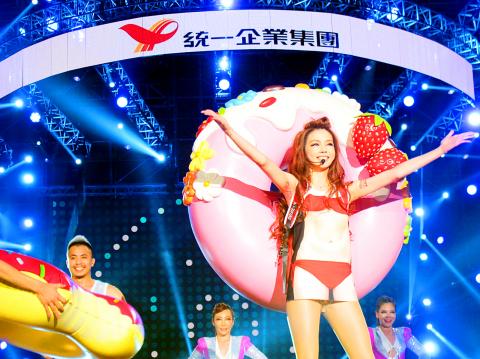 Taiwanese techno-pop diva Jeannie Hsieh wears a giant doughnut as part of her opening act at the Taipei City Government's New Year's Eve countdown party in the Xinyi District on Thursday night.
Photo: CNA
Accompanied by a group of back-up dancers, Hsieh performed six songs while going through several very quick costume changes.
Other performers included singers Wilbur Pan (潘瑋柏) and Elva Hsiao (蕭亞軒), while hosts Jacky Wu (吳宗憲), Lin Yu-chih (林郁智, better known as Na-Dou) and Lulu (黃路梓茵) sang two covers of Western pop classics, including the Beatles' Hey Jude.
Baltimore Orioles pitcher Chen Wei-yin (陳偉殷) was also called onstage, where he was asked to demonstrate his pitching skills by passing a baseball to Wu.
Taipei 101 is enveloped in fireworks at the conclusion of the countdown to 2016 in the Xinyi District early yesterday morning.
Photo: Liu Hsin-de, Taipei Times
Chen later presented Taipei Mayor Ko Wen-je (柯文哲) with a baseball glove bearing the logo of the 2017 Summer Universiade, which Taipei will host, and said that he wish the city success in organizing the sporting event.
However, Ko declined to catch a ball thrown by Chen when the hosts suggested that he do so, saying that Chen did not seem to have good control of his pitching.
Chen agreed with the mayor, saying his jacket was too tight and impeded his movements.
Later on, Ko was back on stage to preside over an opening ceremony for the World Design Capital (WDC) 2016, during which he and WDC selection committee member Mugendi M'Rithaa placed miniatures of five iconic buildings on a map of Taipei to signify the launch of the event.
Ko also sang a Hoklo (commonly known as Taiwanese) song by pop group Mayday (五月天), which his aides said he had been practicing for days.
However, he got off to a rocky start, missing his cue to start by two full verses, and beginning during what should have been the chorus, which led organizers to stop the backing track so that the mayor could finish the song a cappella.
Despite his less-than-ideal performance, the crowd cheered Ko for his effort.
"That scared me to death," the mayor said afterward about his performance.
Before leaving, Ko told the crowd to "have fun and go back to work tomorrow," before reminding the partygoers to "take your trash with you" to lessen the workload of Taipei Department of Environmental Protection personnel.
The countdown party culminated in an extravagant 238-second firework show designed by French pyrotechnic firm Groupe F, for which the Taipei 101 management said it spent about NT$50 million (US$1.51 million).
Pop superstar Chang Hui-mei (張惠妹), better known as A-mei (阿妹), finished the show with a one-hour set that ended at about 1:30am.
The Taipei Department of Environmental Protection deployed 800 employees at the party — some of whom held up placards reading "Please hand me your garbage" — to collect trash, including cigarette butts.
The agency said it collected 12.35 tonnes of trash after the event, 670kg less than the amount collected after the 2014 New Year's Eve event.
Comments will be moderated. Keep comments relevant to the article. Remarks containing abusive and obscene language, personal attacks of any kind or promotion will be removed and the user banned. Final decision will be at the discretion of the Taipei Times.