Chinese students make commemorative postcards
Three Chinese exchange students at Kaohsiung's I-Shou University have made 300 custom-designed postcards to celebrate their time in Taiwan.
The postcards, titled "I was at I-Shou" (i在義守), is a play on the pronunciation of the English "I" and "愛" (Ai, love).
The Chinese students, Chen Lulu (陳璐露) and Chen Cheng (陳騁) from Zhejiang Sci-Tech University and Yuan Yue (袁月) from Shaanxi Province's Northwest A&F University, said they made the cards as mementos and parting gifts for their university classmates, professors and each other, as their three-month exchange program that started in mid-September is coming to an end.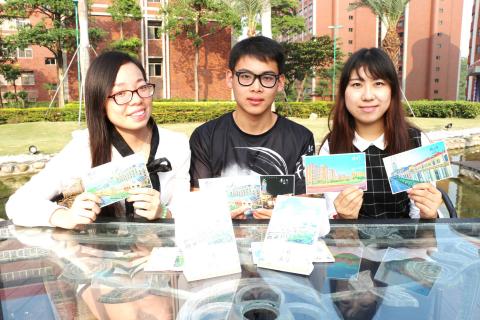 From left, Chinese exchange students Chen Lulu, Chen Cheng and Yuan Yue in Kaohsiung on Monday display postcards they designed and made that depict I-Shou University, which they plan to give to their classmates and teachers before returning to China when the semester ends next month.
Photo: Huang Hsu-lei, Taipei Times
Chen Lulu said that she is "horrible at directions" and was "touched by the friendliness of Taiwanese," who repeatedly rescued her and her companions when they were hopelessly lost in their expeditions.
"We got lost once in the Pingtung County countryside and a truck driver passing by gave us a ride to our destination, because he saw that we were panicking," she said.
Chen Cheng said that his trip to Penghu with his fellow Chinese exchange students was very memorable, because a typhoon trapped them in their hotel for days, adding that he learned to appreciate why Taiwanese treat tropical storms with such the gravity.
His favorite postcard from the set is one featuring the I-Shou University dormitory, because it was "our home in Taiwan," Chen Cheng added.
Yuan Yue said she applied for the exchange program because she is a fan of Taiwanese band Mayday.
"Mayday has performed in Kaohsiung many times, and Kaohsiung is also Taiwan's second-largest city, with wonderful weather and environment," she said.
Although Mayday will not appear in Kaohsiung's New Year's Eve ceremony this year, Yuan said that she considers I-Shou University's 888-second fireworks display a satisfying remedy, which she plans to see with her friends on campus.
The Chinese students, who had not met prior to the I-Shou University exchange program, say they are now the best of friends and made a pact to visit Kaohsiung together in five years' time.
Comments will be moderated. Keep comments relevant to the article. Remarks containing abusive and obscene language, personal attacks of any kind or promotion will be removed and the user banned. Final decision will be at the discretion of the Taipei Times.