2016 ELECTIONS: Candidates debate pork, trade, China
HE SAID, SHE SAID: The first televised presidential debate saw Chu and Tsai banter over stalled talks and travel details, while Soong said he had been sidelined
The three presidential candidates yesterday put the first televised debate into high gear soon after their opening statements, trading criticisms as they responded to questions posed by five media representatives in the second session of the debate.
Chinese Nationalist Party (KMT) presidential candidate Eric Chu (朱立倫) criticized Democratic Progressive Party (DPP) presidential candidate Tsai Ing-wen (蔡英文) when the candidates were asked to declare their stance on whether they would agree to the US' condition that imported pork with leanness-enhancing additives must be allowed as a prerequisite for Taiwan to join the Trans-Pacific Partnership (TPP).
Noting Tsai's meeting with US trade representatives in June, Chu said Tsai excluded the meeting from her itinerary to avoid media queries, adding that it was during the discussion that the possibility of importing leanness-enhanced pork is believed to have taken place.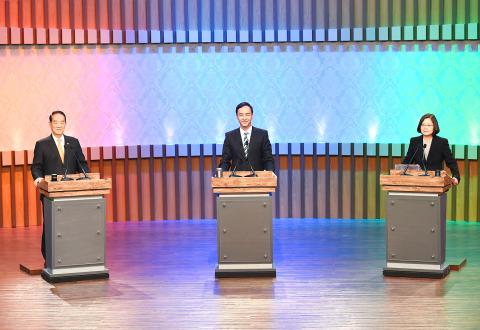 Left to right, People First Party presidential candidate James Soong, Chinese Nationalist Party (KMT) presidential candidate Eric Chu and Democratic Progressive Party presidential candidate Tsai Ing-wen take part in a debate yesterday in the Public Television Service building in Taipei's Neihu District.
Photo: Chang Chia-ming, Taipei Times
Chu said his own meeting with US officials was carried out in an open manner, adding he that responded to reporters' questions about his meeting.
The same opaqueness in Tsai's meeting was manifest in her cross-strait policies, Chu added.
Referring to a remark by Tsai that she had always been compassionate to workers, Chu urged Tsai — who had said that Taiwanese workers have too many holidays and criticized the 40-hour work week — to avoid double-speak.
"I must compliment Chairman Chu for making the effort to fault me after being asked such a serious question," Tsai said.
Tsai said the signing of the TPP or the Regional Comprehensive Economic Partnership (RCEP) should be carried out in tandem with an upgrade of the nation's industries so that they could achieve seamless integration with the international community.
The pig farming sector and animal husbandry industry in general need structural reform to boost farmers' competitiveness in international operations, she said.
Tsai said that, if elected, she would use Japan's and South Korea's legal limits on the amount of leanness-enhancing additives as a reference while setting the nation's own limit.
She said she would prohibit the use of the drugs in domestically farmed pork to set it apart from pork produced by other nations in terms of quality.
To protect public health, she would increase 10-fold the efforts made by the government to inspect labeling on food products' ingredient sources and the manufacturing process to make sure that they comply with legal requirements, Tsai said.
Tsai said she did not make her US travel itinerary public due to an agreement with the US, adding that one of the achievements she made during her trip was, "paving the way for your [Chu's] visit."
People First Party presidential candidate James Soong (宋楚瑜) said he is "highly reserved" about opening up to the US pork industry, as public health must not be sacrificed for economic development.
Asked how they plan to put aside differences between the pan-green and pan-blue camps on the cross-strait trade in services and goods treaties and bills concerning a monitoring mechanism for negotiations on cross-strait agreements, Chu said that Tsai and DPP lawmakers were attempting to delay the review of provisions in the service treaty already signed with Beijing until after the Jan. 16 election and stalling talks to push the goods agreement by blocking bills concerning the monitoring mechanism.
Chu said the KMT supports negotiating cross-strait treaties under provisions set forth in the monitoring mechanism and urged Tsai and the DPP to cease blocking the bills.
Tsai referred to the KMT's secretive negotiations with Beijing over the trade-in-services agreement, saying that policymakers do not have to disclose their negotiating tactics, but they must not keep people in the dark about the outcome.
Tsai said the KMT had achieved little, despite having made many concessions while negotiating the TPP and the RCEP, due to a lack of accompanying measures to enable an upgrade in industries.
The real source of contention in free-trade agreements is not only food safety concerns, but concerns over local industries, she said.
"There they go again, bickering as always," Soong said. "When will you learn to stop?"
Soong said the KMT and the DPP combined occupy more than 90 percent of legislative seats and therefore are the culprits behind the sluggish progress in treaty talks.
"People will read in tomorrow's [today's] papers that the pan-green and pan-blue camps have again had a showdown, and again Soong was marginalized. I am not worried about being marginalized. What I worry about is Taiwan being marginalized," Soong said.
Asked whether she would deny the so-called "1992 consensus" — a term former Mainland Affairs Council chairman Su Chi (蘇起) admitted making up in 2000 that refers to a tacit understanding between the KMT and the Chinese government that both sides of the Strait acknowledge there is "one China," with each side having its own interpretation of what "China" means — even at the cost of spoiling cross-strait relations, which some critics said have become Beijing's sole reference for cross-strait exchanges after the meeting between President Ma Ying-jeou (馬英九) and Chinese President Xi Jinping (習近平) in Singapore last month, Tsai said: "In 1992, there were talks in Hong Kong. Different opinions were presented, but what everyone agreed on was to promote mutual forgiveness and to identify a middle ground so that cross-strait relations could continue to move forward. We acknowledge this event in history."
"However, people's opinions were divided over how to interpret or term this historic event. My stance on this issue is simple: We will continue to use the middle ground as the basis for dialogue. We can talk about anything. I believe that China will be willing to interact with the DPP sensibly," she said.
Chu criticized Tsai's stance on the "consensus," saying that her negation of the "consensus" while asking people to reach a new consensus would set cross-strait relations back 23 years.
"Do we still have time to renegotiate a consensus and cooperations?" Chu said.
Soong said he supports the "1992 consensus," which he said is a tacit understanding rather than an "official document."
Asked how she plans to lessen economic independence on China, Tsai said she had never denied China's role in the economy, but that China should not be the nation's only option when it comes to commerce, because it would have a negative economic impact, which is why the KMT's governance over the past eight years has worried so many people.
She said the government should step in and release funds to support local enterprises facing financial difficulties to fend off pressure from Beijing-backed corporations wanting to acquire or infiltrate them, citing Siliconware Precision Industries Co Ltd's sale of 25 percent of its shares to Tsinghua Unigroup Ltd, a Beijing-sponsored firm, as an example.
Chu said he is not afraid of the "red supply chain," adding that it is not so different from the Japanese-South Korean supply chain.
He touted the KMT's "three bows and four arrows" economic platform, which includes plans to help local businesses create their own brands; development of key components in technologies so they do not need to be imported; and help downstream distributors identify niche markets abroad so that they can open factories overseas.
Comments will be moderated. Keep comments relevant to the article. Remarks containing abusive and obscene language, personal attacks of any kind or promotion will be removed and the user banned. Final decision will be at the discretion of the Taipei Times.