Eric Chu engaged in land speculation: DPP caucus
The Democratic Progressive Party (DPP) caucus yesterday accused Chinese Nationalist Party (KMT) presidential candidate Eric Chu (朱立倫) of engaging in land speculation during his term as commissioner of the then-Taoyuan County.
Speaking at a news conference in Taipei, DPP Legislator Chen Ting-fei (陳亭妃) said that when Chu served as Taoyuan County commissioner between 2001 and 2009, he used government resources to engage in land speculation on plots of land in the so-called "Jhongjheng Arts District" (中正藝文特區), by purposefully lowering the publicly announced values of the plots he intended to expropriate in the district, only to immediately raise them after seizure.
"Chu carried out the practice in five sections of the district. One of them, section 46, had a publicly announced land value of NT$33,000 [US$1,000 at current exchange rates] per ping [3.3m2] in 2004, but it was increased to NT$75,000 in 2007 after Chu seized the land in the section the same year," Chen said.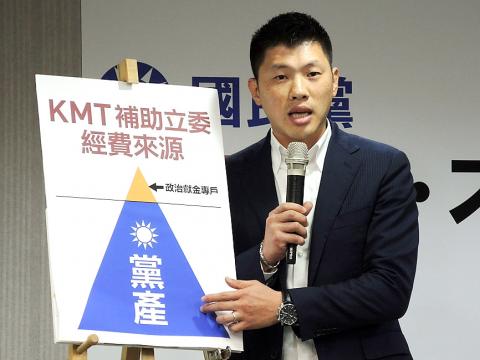 Democratic Progressive Party pokesperson Wang Min-sheng speaks during a press conference in Taipei yesterday next to a printout questioning whether funds from the sale of Chinese Nationalist Party (KMT) properties are being used to fund the party's election campaigns.
Photo: CNA
Part of a larger urban development plan, the Jhongjheng Arts District was designated as a multi-purpose area near the Taoyuan Arts Center, which was opened in 2010.
The center covers 5.16 hectares, but the combined size of land expropriated by Chu's administration amounts to 16.1 hectares, Chen said, adding that Chu later peddled large parts of the remaining plots to property developers to build luxurious residential complexes between 2006 and 2009.
Chen said that in 2006, the county government sold four plots totaling 5,537 ping at a price of NT$615,000 per ping, compared with the NT$140,000 that it paid to purchase the properties from their original owners.
"It appears Chu is our king of land speculation," Chen said.
DPP Legislator Tuan Yi-kang (段宜康) said that a 30-year development ban was imposed on the 16.1 hectare area following its designation as a civic center in 1975.
"In 2004, under the pretext of building the arts center, Chu's administration started seizing plots in the district despite strong opposition from their owners, Tuan said.
Tuan said that most of the expropriated plots had a publicly announced land value of about NT$460,000 per ping in 1999, but the prices were gradually lowered by the county government in the following years.
"Chu's administration acquired the land at the lowest price, then sold it to corporations for a price several times higher," Tuan said. "If you want to know what land speculation is, you may ask our beloved KMT Chairman Chu."
Chu's campaign office spokesperson Wan Mei-ling (萬美玲) said the DPP's repeated attempts to revive old cases were evidence that the party has come to its wit's end.
"We ask DPP Chairperson Tsai Ing-wen (蔡英文) not to hide behind her party members and shift the attention from her land speculation," Wan said.
Comments will be moderated. Keep comments relevant to the article. Remarks containing abusive and obscene language, personal attacks of any kind or promotion will be removed and the user banned. Final decision will be at the discretion of the Taipei Times.