Plastic bottle mosaic to set record
GIANT ENTERPRISE: The artist who is responsible for creating the enormous piece of art used more than 4 million bottles, which were obtained through donations
A giant mosaic made from recycled plastic bottles depicting Vincent van Gogh's famous painting The Starry Night is to be unveiled on Saturday in Keelung's Embrace Cultural and Creative Park (擁恆文創園區).
The mosaic, named The Starry Paradise, covers 53 hectares and is expected to set a new Guinness World Record as the largest of its kind.
The project is almost complete and the artist responsible for its creation has received more than 4 million recycled plastic bottles in donations, the park management said.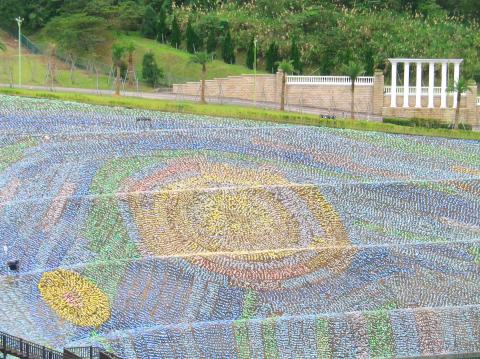 A mosaic of Vincent van Gogh's Starry Night made from recycled plastic bottles is pictured in Keelung's Embrace Cultural and Creative Park on Saturday.
Photo: Lu Hsien-hsiu, Taipei Times
Finding the plastic bottles to create The Starry Paradise was a trying experience, said Wang Cheng-wei (王振瑋), the designer and overseer of the piece, who is also a lecturer at the National Changhua University of Education and a renowned sculptor involved in many public art projects.
The bottles were donated by recycling centers as well as individuals, and for every 10 bottles that were received, the park donated NT$1 to the Canlove Social Service Association, a charity that aims to help people with depression, Wang said.
The Buddhist Compassion Relief Tzu Chi Foundation in Hualien County assisted in coordinating organizational efforts and promoted the project on Facebook, he said.
"The project focuses on the concepts of healing and art, while serving as a charity that addresses environmental concerns," park spokesperson Jeffrey Wang (王志欽) said.
Finding sufficient numbers of blue bottles was especially challenging, as blue was a prominent color in the original painting, Wang Cheng-wei said, adding that blue plastic bottles are relatively rare in Taiwan and that they had to work hard to obtain correct hues of blue bottles.
"This project is a dialogue between Vincent van Gogh and me," Wang Cheng-wei said
"It has different visual effects in daytime when the grass under the mosaic forms a contrast with the arrangement's colors, while at night LED lights illuminate the places where stars are in Van Gogh's composition," the artist said.
The installation is to start receiving visitors on New Year's Day, the park management said.
Comments will be moderated. Keep comments relevant to the article. Remarks containing abusive and obscene language, personal attacks of any kind or promotion will be removed and the user banned. Final decision will be at the discretion of the Taipei Times.