Rare Siberian crane spotted in Taipei not new to Taiwan
A rare Siberian crane that was spotted and captured near a Taipei MRT station early yesterday has turned out to be the same one that has been living at a wetland in New Taipei City for the past year.
The bird was taken to the city's Animal Protection Office after it apparently lost its way and landed near the Songshan MRT Station, media reports said.
At first the bird, also known as the Siberian white crane or snow crane, was thought to be the second to have landed in the nation in recent years.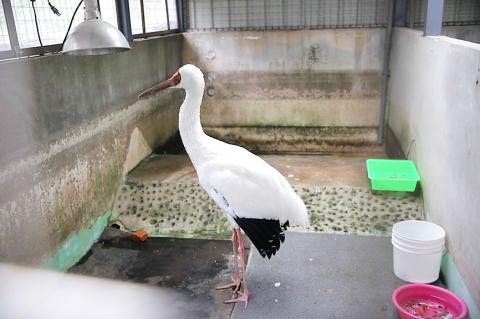 A Siberian white crane stands in the Taipei City Government's Animal Protection Office yesterday after being spotted and captured near the Songshan MRT Station.
Photo: CNA
However, the office said that, on closer inspection, it discovered that the white crane was the same one found last year in a wetland in New Taipei City's Jinshan District (金山), where it has temporarily resided for more than a year.
The bird did not appear to be injured, said the Chinese-language Apple Daily, which first reported the news about a Siberian crane having landed in Taipei.
The Siberian crane is an endangered species, with only a few thousand left in the world.
The bird is to be sent back to its home in New Taipei City, where it has been looked after by a local farmer with help from bird lovers and animal rights groups.
The farmer, Hung Cheng-chun (黃正俊), said he thought the bird had left without bidding farewell when he did not see it on Thursday.
Huang said he was happy to hear that the bird would be brought back to Jinshan to be released.
Comments will be moderated. Keep comments relevant to the article. Remarks containing abusive and obscene language, personal attacks of any kind or promotion will be removed and the user banned. Final decision will be at the discretion of the Taipei Times.