Labor activists storm ministry
POSITIVE CHANGE? A labor ministry official said that workers would see total paid days off rise to 13 under an amendment to the Labor Standards Act
About 30 people stormed the Ministry of Labor in Taipei yesterday to protest an amendment that would cut the number of officially designated holidays per year from 19 to 12, starting next year, as part of a government plan to implement a universal 40-hour workweek.
Taiwan has enforced a 40-hour, five-day workweek for civil servants since 2001, but the Labor Standards Act (勞動基準法) was not amended accordingly to allow the nation's entire work force to enjoy the same treatment.
Workers who do not follow the 40-hour workweek are eligible to take extra official holidays under ministry regulations.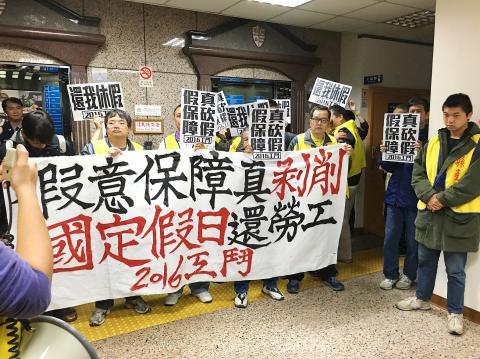 Demonstrators protest inside the Ministry of Labor in Taipei yesterday, calling on the government to rethink a proposed amendment to the Labor Standards Act.
Photo: Chen Pin-hung, Taipei Times
The ministry pushed for an amendment that would make the 40-hour workweek applicable to all workers by cutting the number of national holidays.
With the passage of the amendment earlier this year, weekly working hours are to be reduced to 40 hours, while the five-day workweek is to be implemented across the board and the number of national holidays is to be reduced by seven starting next year.
However, labor rights campaigners said that cutting holidays goes against a policy of reducing work hours under the law.
They said implementing a 40-hour workweek does not guarantee that workers would be allowed two-day weekends and that the number of workdays in a week would be reduced because there is no explicit requirement that workers be given two days off every week, with many employers likely to simply pay more in overtime.
Instead, the number of workdays in a week could increase given that the amendment allows employers to make flexible work arrangements, which could result in even longer work hours, the protesters said, adding that their protest was aimed at protecting their legal right to take paid days off and avoid overwork.
Department of Labor Standards and Equal Employment Deputy Director Huang Wei-chen (黃維琛) defended the change, saying that workers would see their total paid days off per year increase to 13 and, after deducting the seven national holidays, they would receive six more days off than under the current system.
About 40 police officers were dispatched to divert the demonstrators away from the ministry's main entrance.
Comments will be moderated. Keep comments relevant to the article. Remarks containing abusive and obscene language, personal attacks of any kind or promotion will be removed and the user banned. Final decision will be at the discretion of the Taipei Times.