Taipei Mayor defends Tsai Ing-wen
Taipei Mayor Ko Wen-je (柯文哲) yesterday defended Democratic Progressive Party (DPP) presidential candidate Tsai Ing-wen (蔡英文) against land speculation allegations by the Chinese Nationalist Party (KMT), saying that the disputed plots were most likely purchased by Tsai's father, not by herself.
Ko made the remark in response to media requests for comment on whether the KMT's allegations are a "conspiracy" aimed at undermining Tsai ahead of the Jan. 16 presidential election.
The KMT said Tsai in 1988 purchased 15 plots in Taipei's Neihu District (內湖), which were later sold to Farglory Land Development Co for 13 times Tsai's purchase price.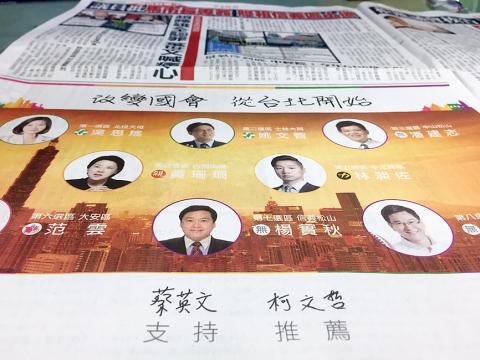 Taipei Mayor Ko Wen-je's signature, right, placed next to that of Democratic Progressive Party (DPP) presidential candidate Tsai Ing-wen appears in a DPP newspaper advertisement.
Photo: Kuo An-chia, Taipei Times
Ko said he did not have time to watch political talk shows and asked reporters when Tsai reportedly purchased the plots, to which reporters replied: "When she was in her 30s."
"She most likely did not buy and sell the land. It was definitely her father... How could she have had the time to purchase the plots?" Ko said.
"I also have a plot in Hsinchu [Ko's hometown]. My father bought it. How could I possibly have the time to buy it?" Ko said. "My father always fantasizes about me opening my own hospital there. It has not happened yet."
Ko brushed aside reports that he was "unhappy" after seeing that the DPP has put his signature next to Tsai's on a newspaper advertisement that began surfacing on Monday to promote the eight legislative candidates of the Capital Reform Front saying: "I feel unhappy every day. It is not news."
"In principle, I support these candidates, but discussions are needed before I show my support," Ko said. "Opposing the KMT is not necessarily a step forward and bringing the KMT down is not necessarily reform. We need to let Taipei residents know why they should support the candidates."
Ko equivocated when asked who authorized the use of his signature and whether he knew about the authorization.
"I am not a good liar. I know what is being pushed through," he said.
He reiterated that he is for helping people to break free of the political polarization between the pan-green and pan-blue camps, saying that he had often heard of people voting for a candidate "grudgingly" for lack of a better choice offered by the political party they support.
"Voting should be a merry activity. I hope Taiwan will gradually break away from its abnormal voting habits," Ko said.
Comments will be moderated. Keep comments relevant to the article. Remarks containing abusive and obscene language, personal attacks of any kind or promotion will be removed and the user banned. Final decision will be at the discretion of the Taipei Times.