Ma welcomes religious diversity at RISEAP assembly
MUSLIM-FRIENDLY: At the first general assembly of RISEAP to be held in Taiwan, Ma said that the nation views Islam like an 'old friend' and welcomed Muslims
President Ma Ying-jeou (馬英九) yesterday said at the opening ceremony of the 16th General Assembly of the Regional Islamic Dawah Council of Southeast Asia and the Pacific (RISEAP) in Taipei, that Taiwan is friendly toward Muslims and he would welcome more Muslims to the nation.
More than 80 religious leaders, academics and experts attended this year's meeting, with representatives of 23 nations and 53 organizations in attendance. This was the first time Taiwan hosted a RISEAP general assembly in its 35-year history.
Ma said that from a historical perspective, Islam is like an old friend, adding that Islam was introduced into China early in the 7th century via traders, and that admiral Zheng He (鄭和), commander of Ming Dynasty (1368 to 1644) naval expeditions, was a Muslim.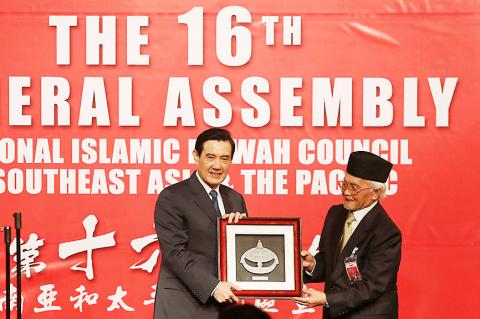 Regional Islamic Dawah Council of Southeast Asia and the Pacific president Tun Pehim Sri Haji Abdul Taib Mahmud, right, presents President Ma Ying-jeou with a commemorative gift at yesterday's opening ceremony of the council's 16th General Assembly in Taipei.
Photo: CNA
He said that Muslims in Taiwan had only numbered about 50,000 in the past, but with more Indonesian migrant workers coming to Taiwan, the number has increased to 250,000, giving Taiwanese an opportunity to learn about Islam and Muslims.
Ma said that the government is dedicated to safeguarding the interests of Muslims. He said he also supported the preservation of the Taipei Grand Mosque as a historic site when he served as Taipei mayor.
Since his presidental inauguration in 2008, Ma has received the Republic of China (ROC) hajj delegation every year and in April this year met with Muslim World League secretary-general Abdullah al-Turki.
Through exchanges with Islamic leaders and Muslims, he has learned about the latest developments in Islam, he said.
Ma said that the ROC Constitution protects religious freedoms, adding that he is glad to see Islam develop under Taiwan's rich religious environment.
Ma said that Taiwan is the 10th-best destination for Muslim travelers outside the Organisation of Islamic Cooperation member states, according to the Global Muslim Travel Index.
Ma said he hopes Muslim visitors, after returning to their home nations, would tell their families and friends that Taiwan is a beautiful, Muslim-friendly country and that it welcomes them.
Comments will be moderated. Keep comments relevant to the article. Remarks containing abusive and obscene language, personal attacks of any kind or promotion will be removed and the user banned. Final decision will be at the discretion of the Taipei Times.