Protesters slam Jennifer Wang over labor record
'LIKE A SHADOW': Female workers affected by job losses have said they will follow Jennifer Wang on her campaign trail until they are granted pensions and severance pay
Labor activists yesterday confronted Chinese Nationalist Party (KMT) vice presidential candidate Jennifer Wang (王如玄) over her labor-rights record following a campaign event, clashing with police as they attempted to force a response to their demands by blocking her path.
About 20 members of the Taiwan International Workers' Association and related labor groups who were protesting outside the Taipei City Election Commission rushed to stop Wang after she attempted to exit quietly through a side door.
Susan Chen (陳素香) — a middle-aged female protester — ended up prostate on the ground during the melee which ensued as demonstrators pressed against police who had formed a circle around Wang, with protesters saying Chen was pushed to the ground by a police officer while she was trying to block the door of Wang's car.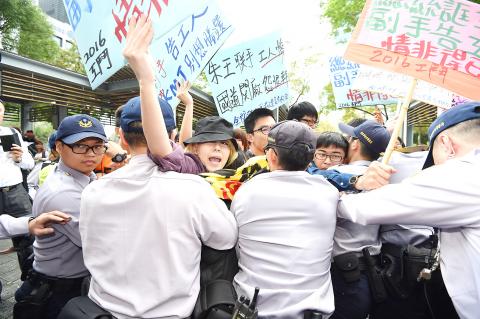 Demonstrators scuffle with police outside the Taipei City Election Commission yesterday as Chinese Nationalist Party (KMT) vice-presidential candidate and former Council of Labor Affairs minister Jennifer Wang accompanied the party's legislative candidates to register their candidacy. The demonstrators were protesting Wang's role in the lawsuit against laid-off workers.
Photo: Chien Jung-fong, Taipei Times
Protesters shouted for Wang to "face" laid-off female workers who she sued during her tenure as Council of Labor Affairs Minister, accusing her of only caring about votes — not workers' interests.
The demonstrators had sought to disrupt an earlier KMT rally on the steps outside the commission's main entrance, creating a tumult as they pressed against a line of police officers separating them from the mass of KMT supporters who stood with Wang and KMT party officials.
The rally was held to support the KMT's eight Taipei district legislative candidates, who were at the commission to officially register to stand in the Jan. 16 elections.
A crowd of more than 100 mostly elderly KMT supporters attempted to drown out the protesters' cries with music blaring from loudspeakers and shouts of "Dongsuan" — Hoklo, also known as Taiwanese, for "get elected."
After Wang entered the commission with other party officials, KMT supporters circled behind protesters, shouting at them to "stop putting on a show" and "get a job," before gradually losing interest and drifting away as protesters continued chanting slogans long after Wang disappeared from view.
Wang stopped and turned around during the melee which ensued during her exit after she noticed Chen had been knocked to the ground, crouching to hold her hand and speak quietly with her until an ambulance arrived.
In response to media queries she said that she could "understand" and "respect" the protesters because of her experience participating in social movements.
"Speaking from my conscience, if I was still involved in social movements, I would grasp every possible kind of opportunity to express my demands, regardless of location," she said, adding that society pays far too little attention to members of disadvantaged groups.
She said that she had heard the protesters and would "do her best" to address their concerns, adding that her nomination demonstrated the KMT's concern about members of disadvantaged groups and its intention to bring about distributive justice.
Wang was a lawyer and women's rights activist before serving on the Council of Labor Affairs.
Activists yesterday said her record showed a lack of concern for the predominantly female workers who have been affected by toll collector layoffs and a controversial series of factory closings.
"Wang said that she was a lawyer who cared about women's rights, but she did not utter a word about the many female workers affected by factory closings or those who lost their jobs and had their seniority rights denied after the toll worker layoffs. She even used NT$20.6 million (US$628,470) of taxpayers' money to hire more than 80 lawyers to sue disadvantaged female workers who are responsible for contributing to Taiwan's economic miracle," Taiwan International Workers' Association researcher Wu Jing-ru (吳靜如) said.
Chen Yi-an (陳弈安) head of the Dong-ling Electronics Co Self Help Association, a group formed by workers at one of the shuttered factories, said that Wang had sued workers to recover compensation the government had provided for lost pensions and severance pay.
The government had been obligated to provide the compensation to workers because it had failed to enforce requirements that the owners of factories make sufficient contributions to pension funds, she said, adding that Wang's lawsuit had been rejected by administrative courts.
Former Freeway Toll Collectors Self-Help Organization president Sun Hsiu-luan (孫秀鑾) reiterated pledges that activists would stalk Wang "like a shadow" until the KMT addresses the demands of former toll collectors, who claim that the government owns them pension and severance payments.
Comments will be moderated. Keep comments relevant to the article. Remarks containing abusive and obscene language, personal attacks of any kind or promotion will be removed and the user banned. Final decision will be at the discretion of the Taipei Times.