Rumors rife over vice presidential picks
RUNNING OUT OF TIME: Presidential candidates must finalize their picks this week so that they can complete the registration process with the Central Election Commission
Amid rumors that Chinese Nationalist Party (KMT) Vice Chairperson Huang Min-hui (黃敏惠) has been tapped as Chairman Eric Chu's (朱立倫) running mate, a Democratic Progressive Party (DPP) member said the KMT's vice presidential candidate will most likely be someone from the media industry.
During an episode of SET-TV's political talk show Ching Pao Hsin Wen Hsien (驚爆新聞線) that aired on Saturday night, former DPP spokesperson Hsu Chia-ching (徐佳青) said Chu has set his eyes on female media professionals as potential running mates.
"Now is a particularly difficult time for Chu to find someone to be on his ticket for the Jan. 16 elections because everyone knows the odds are strongly against him winning the race. That is why KMT members are attempting to secure a safe position, such as a spot on the party's legislators-at-large list," Hsu said.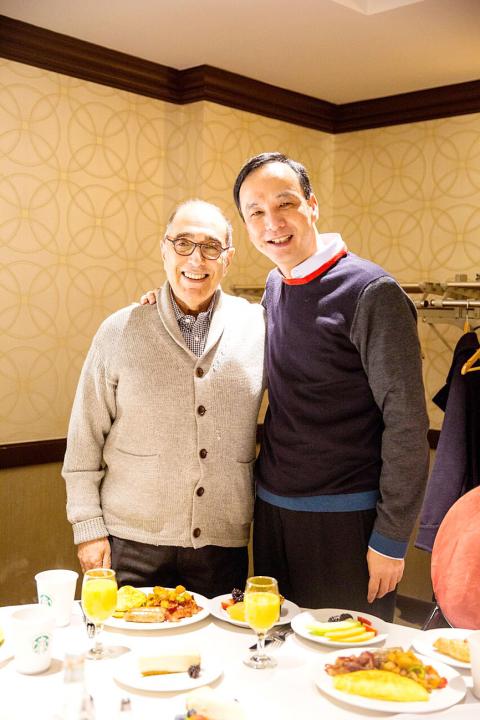 Chinese Nationalist Party (KMT) presidential candidate Eric Chu, right, poses for a picture with Joshua Ronen, who had been his adviser at New York University, in New York City on Saturday.
Photo: CNA
Since Huang, who served two terms as Chiayi mayor and three terms as a KMT legislator, would want to ensure a continuance in elective offices to pave the way for a comeback in Chiayi, being a legislator-at-large seems a better way to achieve her goal than joining Chu's doomed presidential campaign, Hsu said.
The two possible candidates for the vice president position are news anchor Jennifer Shen (沈春華) and media personality Sisy Chen (陳文茜), Hsu said on the show.
Hsu's remarks came one day after Chu said in the US that he was waiting for a final response from his potential running mate and that he planned to announce the candidate next week.
"The vice president is one of the vital leaders of a nation. They must have social and governmental affairs experience to be able to join hands [with the president] in addressing the public's concerns," Chu said.
DPP presidential candidate Tsai Ing-wen (蔡英文) is rumored to have chosen Academia Sinica Vice President Chen Chien-jen (陳建仁) as her running mate.
People First Party (PFP) presidential candidate James Soong (宋楚瑜) yesterday said he was still in the process of deciding on a running mate, as there are some ideal candidates both inside and outside his party.
"Everyone is planning to make public the name of their running mate next week because they would not be able to complete their registration [with the Central Election Commission] as a candidate if they do not," Soong said, adding that he would also announce his choice as soon as possible.
Political background, gender and ethnicity are not his primary concerns; he only cares about whether they share the same principle of wanting to safeguard Taiwan's freedom and democracy, he said.
As for the PFP's list of legislator-at-large candidates, Soong said it will be composed of social elites from different political camps who are not only competent, but also stand a real chance of winning in January.
Comments will be moderated. Keep comments relevant to the article. Remarks containing abusive and obscene language, personal attacks of any kind or promotion will be removed and the user banned. Final decision will be at the discretion of the Taipei Times.