'One Taiwan' not about ties: minister
NO 'ONE CHINA'? MAC Minister Andrew Hsia said that KMT presidential candidate Eric Chu's campaign slogan has meanings such as solidarity among Taiwanese
Mainland Affairs Council (MAC) Minister Andrew Hsia (夏立言) yesterday dismissed speculation that Chinese Nationalist Party (KMT) presidential candidate Eric Chu's (朱立倫) campaign slogan of "One Taiwan" is a reference to the state of cross-strait relations.
Hsia was responding to Democratic Progressive Party (DPP) Legislator Chuang Ruei-hsiung (莊瑞雄) at a question-and-answer session at the legislature in Taipei on whether China would regard Chu as "morally bankrupt" after the unveiling of his "One Taiwan" slogan on Sunday.
"Chu described cross-strait relations as 'both sides belonging to one China' at his meeting with Chinese President Xi Jinping (習近平) in May, but now he is chanting 'One Taiwan' during the election season. China must think he lacks integrity," Chuang said.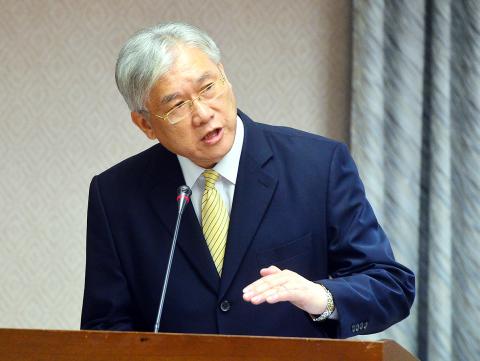 Mainland Affairs Council Minister Andrew Hsia answers questions in the legislature in Taipei yesterday.
Photo: Wang Yi-sung, Taipei Times
Hsia said that he believes Chu's campaign slogan has a distinct meaning, such as solidarity among Taiwanese.
"I do not think it refers to cross-strait ties," Hsia said.
Straits Exchange Foundation Chairman Lin Join-sane (林中森) said that despite the ideological divide between the two nations, the government's strategy is to shelve disputes and create a win-win situation.
"Both sides should reinforce exchanges on issues they can cooperate over, while putting aside disputes where they disagree," Lin said.
"This is why we need the initiative of 'one China, with different interpretations,'" he said.
Lin's remarks were dismissed by Chuang as off-topic and wishful thinking.
Chu's "One Taiwan" slogan has been interpreted by some netizens as supporting the cross-strait status of "one Taiwan, one China," while others regard it as a KMT attempt to capitalize on the name of Taiwan to solicit votes.
Chu has said the slogan refers to a united Taiwanese society that brings all people together regardless of their wealth, social status or birthplace.
Turning to the APEC leaders' summit, which is to be held in the Philippines on Nov. 18 and Nov. 19, Hsia said the council is pushing for a meeting between President Ma Ying-jeou's (馬英九) representative, former vice president Vincent Siew (蕭萬長), and Xi on one of the two days.
If such a meeting occurs, the council suggests that the pair discuss issues such as the promotion of the proposed cross-strait agreement on trade in goods, Hsia said.
Schedules for the next round of negotiations on the agreement have not yet been set, Hsia said, adding that while both sides are inclined to ink the treaty by the end of this year, it would not be signed prior to the APEC summit.
Comments will be moderated. Keep comments relevant to the article. Remarks containing abusive and obscene language, personal attacks of any kind or promotion will be removed and the user banned. Final decision will be at the discretion of the Taipei Times.