TaiMed case reveals Tsai's 'flaws': KMT
MORAL FAILINGS? The KMT said the only reason DPP Chairperson Tsai Ing-wen was found not to have broken the law was because of loopholes in revolving-door laws
The Chinese Nationalist Party (KMT) legislative caucus yesterday said there is still the question of "political and moral flaws" in the case involving Democratic Progressive Party (DPP) Chairperson Tsai Ing-wen's (蔡英文) investment in a biotechnology company, "despite the absence of a judicial ruling."
The Taipei District Court on Tuesday ruled former Council for Economic Planning and Development Minister Christina Liu (劉憶如) to pay Tsai NT$2 million (US$61,189) for defamation over her accusation that Tsai violated revolving-door laws by investing in biotechnology company TaiMed Biologics Inc (中裕新藥).
The case against Tsai was closed in August 2012 after no irregularities were found.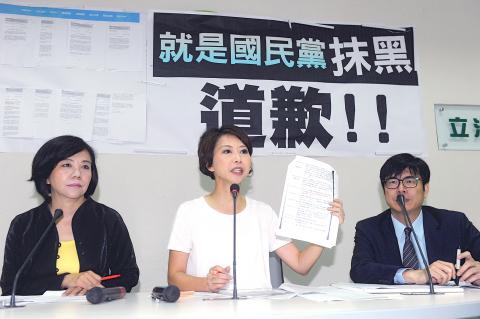 Democratic Progressive Party (DPP) legislators Yeh Yi-jin, left, Chen Ting-fei, center, and Chen Chi-mai, right, attend a news conference in Taipei yesterday calling on Chinese Nationalist Party (KMT) Chairman Eric Chu to apologize over allegations of corruption made against DPP Chairperson Tsai Ing-wen by former Council for Economic Planning and Development minister Christina Liu.
Photo: CNA
KMT Legislator Wu Yu-sheng (吳育昇) dismissed the DPP's demand that the KMT apologize for its accusations about Tsai.
"It is Tsai who needs to apologize, and she was supposed to do it four years ago," Wu said. "If it were [KMT Chairman] Eric Chu (朱立倫) who invested in the company in the capacity of former vice premier of the Executive Yuan, would the DPP attack Chu, even if the investment had been made after he left the post?"
"This case raises concerns in two areas; the judicial, and the political and moral. The only reason that Tsai avoided violating the law is because the revolving-door laws of this nation do not restrict the actions of premiers and vice premiers," Wu said. "It is only because we lack the pertinent regulations that Tsai was not found culpable."
KMT Legislator Alicia Wang (王育敏) agreed with Wu, adding that the Control Yuan in October 2013 issued a "25-page corrective report" addressing the shortfalls in the court's investigation.
"If [a person] is afraid of making apologies, they are not qualified to run for president," Wu said.
Vice President Wu Den-yih (吳敦義) said Tsai should clearly explain to the public whether she had made an effort to avoid a conflict of interests.
When asked whether the KMT needs to apologize, Wu said the case "has absolutely nothing to do with the KMT; Tsai is the one who is involved."
A group of DPP lawmakers held a separate press conference, lambasting the KMT for not understanding how to "engage in introspection."
On Tuesday, Chu, in response to the DPP's demand for an an apology, said that the case "is not directly related to the KMT."
Liu said yesterday that she would appeal the ruling.
Additional reporting by Staff Writer
Comments will be moderated. Keep comments relevant to the article. Remarks containing abusive and obscene language, personal attacks of any kind or promotion will be removed and the user banned. Final decision will be at the discretion of the Taipei Times.