Baseball inspires hope for last-minute victories: Chu
Chinese Nationalist Party (KMT) presidential candidate Eric Chu (朱立倫) yesterday said that Taiwanese baseball has inspired him to be persistent, as well as confident of the possibility of turning defeat into victory.
"One reason baseball is so entertaining is that the players always endeavor to stick it out to the end. Oftentimes they manage to turn the table on their competitors at the last minute, usually in the bottom of the ninth inning," Chu said in a morning interview with Asia FM radio.
Baseball is not a one-person sport, but requires teamwork, Chu said, adding that the players' unwavering perseverance has been an inspiration.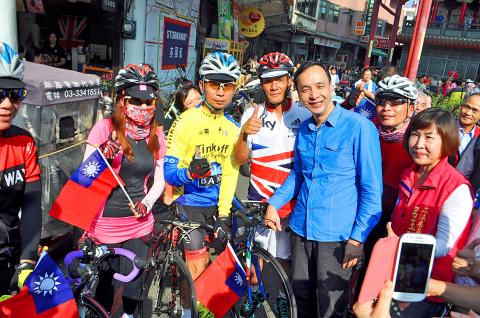 Chinese Nationalist Party (KMT) presidential candidate Eric Chu, in blue shirt, yesterday poses with a group of cyclists during a visit to Taoyuan. Chu, who was born in what was then Bade, Taoyuan County, served two terms as Taoyuan County commissioner.
Photo: Lee Jung-ping, Taipei Times
"I have learned to never give up, to take the necessary risks to win and to seek victory amid defeat. This is the spirit of Taiwan. We stick with it to the end and never quit," he said.
Chu's comments came after the Lamigo Monkeys won the CPBL Taiwan Series on Sunday, despite falling behind 3-1 early in the series.
The Monkeys won the last three games of the series.
Chu, who is KMT chairman, continues to lag behind Democratic Progressive Party (DPP) presidential candidate Tsai Ing-wen (蔡英文) in public opinion polls.
A survey released yesterday by the Taiwan Thinktank showed Tsai's support ratings at 48.1 percent, Chu's at 16.3 percent and People First Party (PFP) presidential candidate James Soong's (宋楚瑜) at 10.4 percent.
Given the hypothesis of Soong dropping out of the Jan. 16 election, 50.9 percent of respondents supported Tsai, compared with 20 percent for Chu.
The results are similar to those of a SET-TV poll released on Oct. 18, which showed Tsai with a support rate of 41.6 percent, Chu with 20.7 percent and Soong with 10.1 percent.
Chu said the election would be a tough battle, but he believes his achievements as Taoyuan County commissioner and New Taipei City mayor would help tilt the race in his favor.
"I will definitely turn defeat into victory," he said.
Asked to comment on a court ruling announced yesterday that orders former minister of finance Christina Liu (劉憶如) to pay Tsai NT$2 million (US$61,200) compensation for damaging her reputation during the 2012 presidential campaign, Chu said he has always spurned negative campaign tactics.
He said he encourages everyone to take a positive approach when campaigning.
Comments will be moderated. Keep comments relevant to the article. Remarks containing abusive and obscene language, personal attacks of any kind or promotion will be removed and the user banned. Final decision will be at the discretion of the Taipei Times.