Equal treatment for parties: AIT's Moy
ASKED AND ANSWERED: AIT's new director addressed a news conference in Taipei that ranged from Eric Chu's planned visit to the US, cross-strait relations and the TPP
The US will continue to engage with all major Taiwanese political parties and treat their candidates equally, American Institute in Taiwan (AIT) Director Kin Moy said yesterday.
Moy made the remarks at a news conference in Taipei in response to questions about Chinese Nationalist Party (KMT) presidential candidate Eric Chu's (朱立倫) plan to visit the US next month.
"I told Chu at our meeting last week that we welcome him to the US at a time that is appropriate. We engage with all the political parties here and I think we have a really strong relationship," said Moy, who took over as director in June.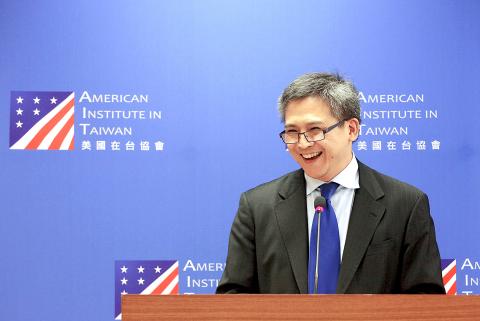 American Institute in Taiwan Director Kin Moy yesterday laughs during a speech at a news conference in Taipei.
Photo: Pichi Chuang, Reuters
"We will treat all the political parties and all their candidates on an equal footing with equal respect," he said.
Asked whether Chu would receive the same treatment accorded to Democratic Progressive Party (DPP) presidential candidate Tsai Ing-wen (蔡英文) on her June trip, Moy said it was too early to talk specifics about Chu's schedule.
"We normally do not talk about the aspects or schedules of private individuals or officials … but it is sufficient to say we have every intention of fulfilling … our commitment: that is to treat all parties equally," Moy said.
He played down questions about whether the US considers the so-called "1992 consensus" to be the only viable option for maintaining the cross-strait "status quo," saying only that Washington supports a dialogue between the two sides that leads to greater peace and stability.
"The US hopes there is a dialogue that leads to fruitful results … but it should come at a pace and scope that people on both sides of the [Taiwan] Strait are comfortable with," he said, reiterating the US' opposition to any unilateral action that changes the "status quo."
The "1992 consensus" refers to an alleged KMT-Chinese Communist Party (CCP) understanding that Taiwan and China acknowledge there is "one China," with each side having its own interpretation of what that means. Former Mainland Affairs Council chairman Su Chi (蘇起) in 2006 said that he made the term up in 2000.
Asked if the US is concerned about the possible deterioration of cross-strait ties should Tsai be elected president, given the lack of dialogue between the DPP and the CCP, Moy said it was too early to speculate what the post-election relationship between the two sides of the Strait would be.
The US admires Taiwan's democracy and Washington is not choosing sides in the Jan. 16 presidential election because Taiwan's voters must make the decision, he said.
"I have every confidence that we will develop very strong relations with whoever wins in January and we will continue to build on what is already a strong relationship," Moy added.
As for Taiwan's hope of joining the Trans-Pacific Partnership (TPP), Moy said it was inaccurate to say restrictions on imports of US pork are the sole sticking point in US-Taiwan trade relations, as a broad range of issues were discussed during the last round of bilateral Trade and Investment Framework Agreement talks, which were held in Taipei on Oct. 1.
Moy said that Taiwan still has work to do if it intends to engage in regional economic integration. He urged the government to implement food policies that are consistent with international standards and based on science.
The government should also review the TPP document to learn about the standards and concepts of the partnership, and to engage all of its 12 members rather than just a few, given the TPP's consensus-dominant mechanism, he said.
Comments will be moderated. Keep comments relevant to the article. Remarks containing abusive and obscene language, personal attacks of any kind or promotion will be removed and the user banned. Final decision will be at the discretion of the Taipei Times.