Candidates urged to declare stance on gay marriage
Major party candidates should take a clear position on marriage equality, legislative candidates from the Green-Social Democratic Party Alliance (Green-SDP Alliance) said yesterday.
"Gay voters have been deceived by politicians for too long, so we hope all presidential and legislative candidates can show sincerity and stop throwing curveballs to voters," Social Democratic Party (SDP) candidate Miao Bo-ya (苗博雅) said.
"Be brave enough to tell the public what you really think in your heart and whether you support marriage equality. Only then will people have a clear basis for casting their ballots," Miao said, criticizing the Chinese Nationalist Party (KMT) and the Democratic Progressive Party for failing to state whether they would support legalizing same-sex marriage if they achieved a legislative majority.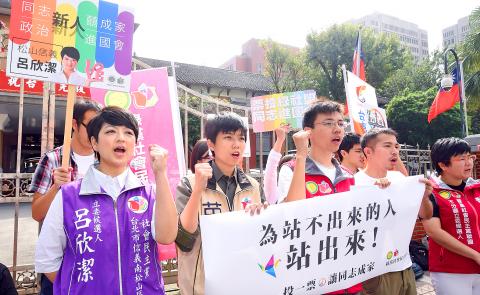 Protesters hold placards and chant slogans outside the Legislative Yuan yesterday, urging lesbian, gay, bisexual and transgender people across the nation to wield the power of their votes to influence politics.
Photo: Liu Hsin-de, Taipei Times
The Taiwan Alliance to Promote Civil Partnership Rights said it would establish a "Rainbow Front," inviting the nation's more than 400 legislative candidates to sign pledges to support three draft bills to legalize "diverse family formation," as well as publishing an online record of candidates' public statements and votes on gay rights issues.
Miao urged gay voters to vote against candidates with anti-gay records, saying that only if they were forced to pay at the ballot box could there be effective improvements to same sex rights.
SDP legislative candidate Lu Hsin-chieh (呂欣潔), known for her flashy rainbow earrings, said that when she decided to run, some people advised her to downplay her background as a gay rights activist with the Taiwan Tongzhi (LGBT) Hotline Association.
However, "to us, homosexual identity is an important part of life," she said.
Lu said that while she was originally concerned that her background would negatively influence her campaign, she had received a lot of positive feedback on the trail, whether from stall vendors in traditional markets or parents outside of elementary schools.
Other candidates featured included Green Party Taiwan's Jia Bo-kai (賈伯楷) and Victoria Hsu (許秀雯). Homosexual candidates make up five of the Green-SDP alliance's 16 candidates.
In related news, the Taiwan Tongzhi (LGBT) Hotline Association yesterday announced that the largest lesbian, gay, bisexual and transgender (LGBT) conference in Asia is to be held for the first time in Taiwan, with 300 activists from 30 countries participating.
Ashley Wu (巫緒樑), a director of the association, said the 6th ILGA-Asia Regional Conference would be held at the Chientan Overseas Youth Activity Center in Taipei from tomorrow to Friday. ILGA stands for International Lesbian, Gay, Bisexual, Trans and Intersex Association.
The conference will discuss issues such as marital equality, AIDS and the progress made by LGBT families in Taiwan at its workshops, and have people share their experiences.
ILGA co-secretary general Ruth Baldacchino said that the problems and discrimination faced by the LGBT community in the past remain in place, and she hoped the gathering would help LGBT activists work together to better address those issues.
Additional reporting by CNA
Comments will be moderated. Keep comments relevant to the article. Remarks containing abusive and obscene language, personal attacks of any kind or promotion will be removed and the user banned. Final decision will be at the discretion of the Taipei Times.