TSU questions Chu over Vtron contract
MISSILE DEAL: The defense ministry's decision not to sue Vtron, owned by Eric Chu's father-in-law, may have robbed the government of NT$30 million, the TSU said
Chinese Nationalist Party (KMT) Chairman and presidential candidate Eric Chu (朱立倫) might have pulled some strings to bring about an out-of-court settlement between the Ministry of National Defense and Vtron Technology, the Taiwan Solidarity Union (TSU) caucus said yesterday.
TSU caucus convener Lai Chen-chang (賴振昌) told a press conference that Vtron owner Kao Yu-jen (高育仁), Chu's father-in-law, won a ministry contract in 2013 to manufacture key components for the Tien Chien II (TC-2), a medium-range air-to-air missile, by tendering a bid that was 35 percent below the minimum and failed to deliver.
Vtron's successful bid generated doubts in the arms manufacturing industry from the outset and Vtron did not disappoint, drawing a complete blank in terms of development, Lai said, adding it was very suspicious that the ministry had a sudden change of heart and did not pursue legal action against Vtron.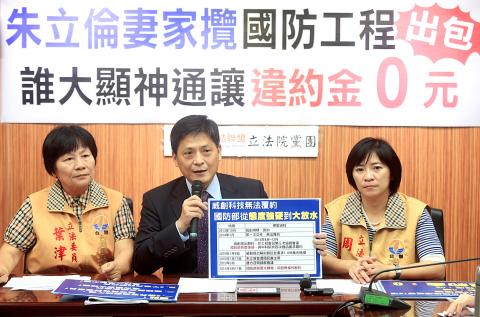 Taiwan Solidarity Union (TSU) caucus convener Lai Chen-chang, center, holds up a notice in the Legislative Yuan yesterday during a press conference. The TSU has accused the family of the wife of Chinese Nationalist Party (KMT) presidential candidate Eric Chu of illegally obtaining a contract from the Ministry of National Defense.
Photo: Chien Jung-fong, Taipei Times
The project called for the production of 19 types of TC-2 missile components. With the minimum bid set at NT$238 million (US$7.28 million), Vtron won the bid by offering NT$150 million, with a promise to turn in the components 300 days after the signing of the contract.
The ministry and the Chung Shan Institute of Science and Technology have repeatedly demanded that Vtron produce the components, with the fourth such demand going out last year, Lai said.
The ministry had claimed it would not let Vtron off lightly because of its political connections, Lai said, referring to Kao and Chu.
However, the ministry did not press charges against Vtron, while the company took the ministry to court to effectively annul its contractual obligations, as well as ask for NT$1.92 million for material expenditures and NT$15 million for estimated benefits, the TSU said.
Lai said it was incredible that Vtron was able to win the project with its below-the-minimum bid and escape unscathed after failing to fulfill its contract.
The ministry's abrupt U-turn in June, when it absolved Vtron of all responsibility, was highly suspicious and hints of behind-the-scenes political manipulation, Lai said.
Chu must offer an explanation for the turn of events, as Vtron might have robbed the government of NT$30 million in contract violation fees, he said.
Chu dismissed the allegations as nothing more than slander and rumormongering.
"It is inevitable that election mudslinging would eventually include me, but the public will only look down on [political parties] that employ smear tactics against my family," Chu said.
Ministry spokesman Major General David Lo (羅紹和) said that the ministry strictly follows government regulations on procurement and subcontracting, and does not give special consideration to any company regardless of their background.
Additional reporting by CNA
Comments will be moderated. Keep comments relevant to the article. Remarks containing abusive and obscene language, personal attacks of any kind or promotion will be removed and the user banned. Final decision will be at the discretion of the Taipei Times.