Student editors hit back over reviews
CRITICS: The publication funded by school students discusses literature and arts and has branched into politics, prompting school authorities to inspect articles
The independence of editorship for school papers has come into question after student editors of the Jianchung Youth (建中青年) at Taipei Municipal Jianguo High School complained that school authorities asked to "look through" the contents of issue No. 141 before it went to print.
The Jianchung Youth has previously leaned toward literature and arts, but has recently seen the addition of social issues, such as commentaries on the Chinese Nationalist Party's (KMT) change of presidential candidate.
Student editors on Tuesday said in a Facebook post that the school administration had requested a review of an interview with Taipei City Mayor Ko Wen-je (柯文哲) on the Taipei Dome project.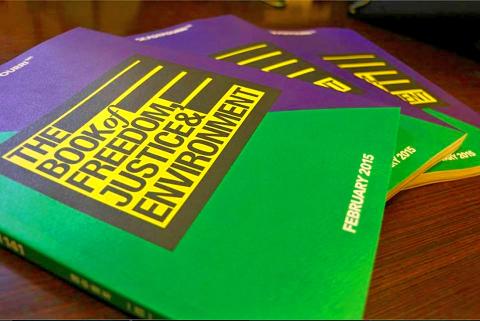 An issue of Taipei Municipal Jianguo High School's periodical, Jianchung Youth, is pictured in an undated photograph.
Photo: Screen grab from Facebook
According to student editors Lin Kuang-ting (林冠廷) and Lin Cheng-ying (林政穎), the publication has not been inspected by school authorities since issue No. 97.
"After due discussion, we feel that for the implementation of independent editorship we must make the paper independent of school authorities," Lin Kuan-ting said, adding that future copies would be printed independent of the school in the hopes of discussing matters both in and out of the school with more independence.
The school's cancelation of students' mandatory subscription of the publication five years ago meant that funding for the publication became the responsibility of students, Lin Kuan-ting said.
Since the school has not subsidized the periodical in any way, "it has little to no affiliation with the school," Lin Kuan-ting said.
Student affairs division head Pai Wan-ying (白萬應) said the school has always kept a system of review, but claims that the school "inspecting" the publication is over the top.
The contents of issue No. 141 have been greatly debated and as it bares the name of the school, the school must take responsibility, Pai said, adding the publication would remain the school's publication, no matter what the issue number is.
This is not the first publication to sever ties with a school. Taichung City's Hui Wen High School's publication has been independent for six years.
The Hui Wen High School journal saw more than 1,200 subscriptions each issue and has received awards for its quality.
The Municipal Kaohsiung Senior High School, Municipal Kaohsiung Girls' Senior High School launched a cross-campus journal called Lighter (諫燈) three years ago that is independent of the respective schools.
Comments will be moderated. Keep comments relevant to the article. Remarks containing abusive and obscene language, personal attacks of any kind or promotion will be removed and the user banned. Final decision will be at the discretion of the Taipei Times.