Eric Chu claims DPP dirty tricks, Internet smears
'NOTHING TO HIDE': Chu urged his opponents not to start adopting negative campaign tactics, for the sake of future generations and Taiwanese democracy
Chinese Nationalist Party (KMT) presidential candidate Eric Chu (朱立倫) yesterday accused the Democratic Progressive Party (DPP) of launching a series of malicious attacks against him, saying the public would not support negative campaign tactics.
"At last, because of my presidential nomination the DPP has started moving, from legal actions and impeachment drives to recall motions and an all-out online smear campaign," Chu said during a visit to a KMT branch and legislative candidates in Taichung. "It seems the DPP can no longer win the January presidential election lying down."
Chu made the remarks one day after being called in for questioning by the Special Investigation Division (SID) of the Supreme Prosecutors' Office over his July 19 replacement of Deputy Legislative Speaker Hung Hsiu-chu (洪秀柱) as the KMT's presidential candidate.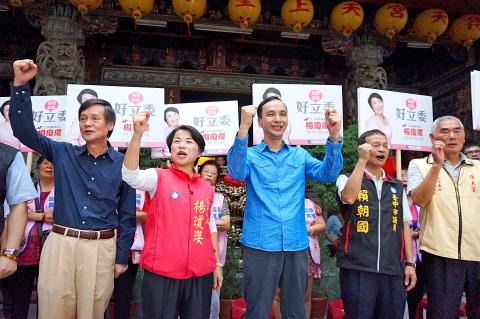 Chinese Nationalist Party (KMT) presidential candidate Eric Chu, center, raises his fists during a campaign event in Taichung yesterday.
Photo: Ou Su-mei, Taipei Times
The SID initiated a probe into the matter earlier this month after two opposition lawmakers — DPP Legislator Chen Ting-fei (陳亭妃) and Taiwan Solidarity Union Legislator Chou Ni-an (周倪安) — took legal action against Chu and KMT Secretary-General Lee Shu-chuan (李四川) over their alleged attempts to coax Hung into dropping out of the Jan. 16 race by offering her a quid pro quo.
"I am extremely repelled by how a political party or politicians can resort to such methods to try to interfere in next year's presidential election, and the moves are highly detrimental to Taiwanese democracy," Chu said after stepping out of the SID's office on Wednesday night.
"We have done nothing wrong and have nothing to hide," he said.
Chu urged his opponents to refrain from adopting negative campaign tactics for the sake of Taiwanese democracy and future generations.
"I hope these negative attacks and politically motivated manipulations will stop with this generation," Chu said. "As the presidential candidate of a party aiming to become the ruling party, [DPP Chairperson] Tsai Ing-wen (蔡英文) should reflect on whether this approach has a positive influence on people."
Dismissing news reports that he planned to invite Chang Gung Memorial Hospital's Kaohsiung Branch superintendent Chen Chao-long (陳肇隆), dubbed "the father of liver transplants in Asia," to be his running mate, Chu said he has not given any thought to the KMT's potential vice presidential candidates.
"I will keep an open mind. The future leaders of Taiwan do not necessarily have to have a political background or fit certain criteria," he said.
KMT Vice Chairman Hau Lung-bin (郝龍斌) said he believed every step in Chu and Lee's handling of the replacement issue was legal, while shrugging off news reports claiming Hung had recorded her meetings with the pair as evidence.
"Attempts by any parties to politically manipulate election results would set a bad example. Hopefully, Chu and Tsai can endeavor to be good role models for the nation's electoral system and let elections be just about healthy competition, not power struggles," Hau said.
Comments will be moderated. Keep comments relevant to the article. Remarks containing abusive and obscene language, personal attacks of any kind or promotion will be removed and the user banned. Final decision will be at the discretion of the Taipei Times.