Immigrants key to enhancing ties with SE Asia: Tsai
Democratic Progressive Party (DPP) presidential candidate Tsai Ing-wen (蔡英文) yesterday vowed to promote policies that would benefit the nation's immigrants, adding that she hoped one day an offspring of immigrants could become the president of Taiwan.
Accompanied by immigrants from Vietnam, Thailand, Indonesia, Myanmar and the Philippines, Tsai presented her immigrant policy agenda at a press conference in Taipei.
"Taiwan has always been a nation of immigrants and a culturally diverse society. Our ancestors came here at different times, and they brought different cultures and ideas that enriched the island and made it more vivid," Tsai said.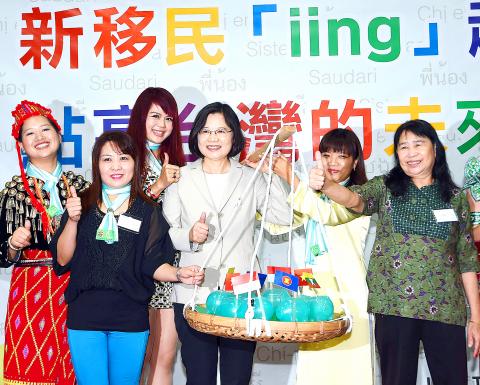 Democratic Progressive Party presidential candidate Tsai Ing-wen, center, yesterday poses for photographs with Southeast Asian immigrants as they establish a support group for Tsai in Taipei.
Photo: Fang Pin-chao, Taipei Times
Tsai said that last month, she announced her "new southward policy" to establish deeper and more diverse relations with Southeast Asian nations.
In the past, such policies focused on increasing Taiwanese investments in the region, "but in the future, we hope to have more diversity in our exchanges with Southeast Asian nations to encompass culture, education, civil society and international organizations," she said.
To achieve these objectives, Tsai said she would encourage Taiwanese to learn more about their Southeast Asian neighbors, including their languages.
With more schools teaching Southeast Asian languages, Tsai encouraged immigrants parents to teach their children their mother tongue to gain proficiency in the language even before starting school.
The children of Southeast Asian immigrants could be "pioneers" who lead Taiwan into collaborations with their home countries through enhanced communication, she said.
"The new children of Taiwan are out most important assets," Tsai said. "Their biggest advantages are the most important assets for Taiwan, as they understand both Taiwan and Southeast Asia, and thus are the best candidates to lead Taiwan into closer cooperation with Southeast Asian nations," she said.
The DPP chairperson added that she would push for greater recognition of university degrees from the region.
"I know that a lot of new immigrants are facing many challenges and discrimination in their job-hunt and at work," Tsai said. "One of the biggest issues is that, while they have very good degrees in their own countries, their diplomas are not recognized [in Taiwan]."
Tsai added that she hoped that a child of immigrants could one day be a chairperson of the DPP, and "run for president."
Comments will be moderated. Keep comments relevant to the article. Remarks containing abusive and obscene language, personal attacks of any kind or promotion will be removed and the user banned. Final decision will be at the discretion of the Taipei Times.