Future of diplomatic ties uncertain: Lin
SILENT PARTNERS: Five of the nation's allies failed to speak up for Taiwan in the UN this year, while some would like to normalize ties with China, a PFP legislator said
While Taiwan's relations with its diplomatic allies in the first half of the year were stable, Minister of Foreign Affairs David Lin (林永樂) yesterday said that he could not predict how they would develop in the latter half of the year amid speculation of Chinese interference in the run-up to January's presidential and legislative elections.
Responding to a question by Democratic Progressive Party Legislator Huang Wei-cher (黃偉哲) at a meeting of the legislature's Foreign and National Defense Committee, Lin said that diplomatic ties with Central and South American allies were stable and the ministry would continue to monitor developments amid rumors that Beijing might try to sabotage Taiwan's efforts.
Lin rated the current state of diplomatic ties as a "green light," but added that "predicting [the second half] is difficult, as it depends on the outcome of the coming elections."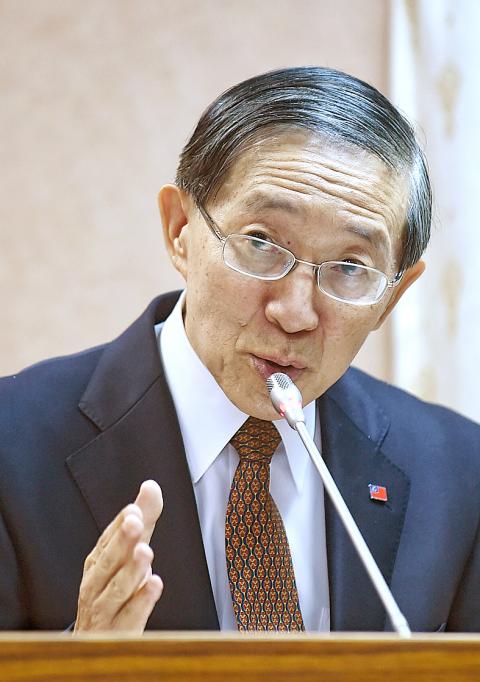 Minister of Foreign Affairs David Lin yesterday takes part in a question-and-answer session in the Legislative Yuan in Taipei.
Photo: Liu Hsin-de, Taipei Times
"Maintaining stable cross-strait relations is a major factor," the minister added.
People First Party Legislator Thomas Lee (李桐豪) asked Lin about the failure of the nation's allies to speak up for Taiwan during the UN general debate.
"In this year's debate, five of our 22 allies failed to make comments in our favor, four of which — Panama, Honduras, El Salvador and the Dominican Republic — have failed to do so for three consecutive years," Lee said.
Nicaragua and Guatemala had also been silent once or twice over the past three years, he said.
In a meeting between China and Community of Latin American and Caribbean States (CELAC), eight of the CELAC states said they would like to normalize relations with China, Lee said.
"The eight includes all the countries I just mentioned," the lawmaker said.
Lee asked how Lin would rate Taiwan's diplomatic ties with the eight after next year. The minister replied that stable cross-strait relations are crucial to the nation's foreign relations.
"I am talking about the present," Lee said. "Even though we have been following a 'viable diplomacy' [policy] and maintaining the 'status quo,' [some of our allies] failed to speak up for us for three consecutive years."
The minister said he regrets their failure to do so, "but we also understand the pressure they are subjected to [by Beijing] and other considerations that they might have."
"Speaking for us in the UN debate is not a requisite of, and should not be equated to, the diplomatic ties we have with them," he added.
Lee contended there still has to be a means of distinguishing those who strongly support the nation and those who do not.
"There could be some kind of redistribution of the financial aids to encourage the allies that have been more supportive of us than others," he said.
Comments will be moderated. Keep comments relevant to the article. Remarks containing abusive and obscene language, personal attacks of any kind or promotion will be removed and the user banned. Final decision will be at the discretion of the Taipei Times.