DPP to maintain original campaign strategy: Tsai
Although the Chinese Nationalist Party (KMT) yesterday decided to change its presidential candidate, Democratic Progressive Party (DPP) presidential candidate Tsai Ing-wen (蔡英文) said her party has taken every variable into consideration and plans to continue to follow its original strategy.
"The DPP has shown solidarity, and everyone on the team has the same objective," Tsai said in response to media queries.
"All of the party's talent are in their respective positions, and we plan to put out our full efforts into the last 90-odd days left [in the election campaign] for our best performance," she added.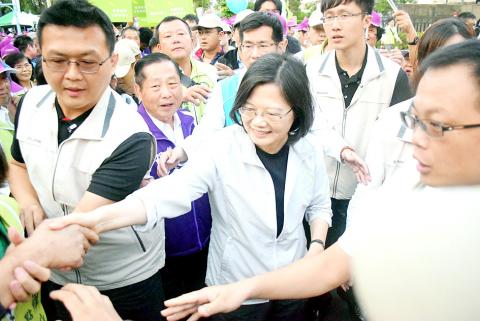 Democratic Progressive Party (DPP) Chairperson Tsai Ing-wen yesterdya shakes hands with supporters in Taipei. Tsai said the Chinese Nationalist Party's (KMT) decision to change presidential candidate highlights a conflict between the party's system and internal integration.
Photo: Chen Wei-tsung, Taipei Times
Asked about the KMT's possible plan to place Legislative Speaker Wang Jing-pyng (王金平) in first place on its at-large legislator list, Tsai said that the DPP considered the possibility of such events at the beginning of its campaign and carefully planned its strategy accordingly.
"At the moment, we are still following our original plan and pace to campaign cautiously," she said.
As for her running mate, Tsai said that she has not made a decision yet, and that she would continue to listen to public opinion.
"If my running mate is someone who holds public office, I would not expect the person to run while serving the public office," she said.
Tsai made the remarks as she campaigned for former premier Su Tseng-chang's (蘇貞昌) daughter, Su Chiao-hui (蘇巧慧), who is running for a legislative seat representing New Taipei City's Shulin (樹林) and Yingge (鶯歌) districts.
Su Tseng-chang, who also attended the campaign rally, criticized the KMT over its decision to replace Hung Hsiu-chu (洪秀柱) as its presidential candidate.
"The KMT is driving people insane," Su Tseng-chang said. "On the one hand, they are apologizing to Hung, and on the other, each one of them [KMT members] is stabbing Hung in the back."
"The DPP will absolutely follow due process to win the presidential election, and to win a majority in the legislature," Su Tseng-chang added.
Comments will be moderated. Keep comments relevant to the article. Remarks containing abusive and obscene language, personal attacks of any kind or promotion will be removed and the user banned. Final decision will be at the discretion of the Taipei Times.