'Consensus' historical fact: MAC
NO RETURN? Andrew Hsia said he joked with his Chinese counterpart that lawmakers had demanded that he protest over a travel issue, or he 'should not bother going home'
Mainland Affairs Council (MAC) Minister Andrew Hsia (夏立言) yesterday said that the existence of the so-called "1992 consensus" is a historical fact that needs to be respected, while calling for goodwill and mutual understanding from both sides of the Taiwan Strait when dealing with major cross-strait issues.
Hsia made the remarks during his second meeting with his Chinese counterpart, China's Taiwan Affairs Office Minister Zhang Zhijun (張志軍), in Guangzhou, China — talks that are expected to be the last high-level cross-strait interaction of President Ma Ying-jeou's (馬英九) second term.
"Seventeen years ago today, four consensuses were reached at the 1998 Koo-Wang [then-Straits Exchange Foundation chairman Koo Chen-fu (辜振甫) and Association for Relations Across the Taiwan Straits chairman Wang Daohan (汪道涵)] talks held on the basis of the '1992 consensus,' which was reached during a meeting in Hong Kong in 1992 between Taiwanese and Chinese representatives," Hsia said.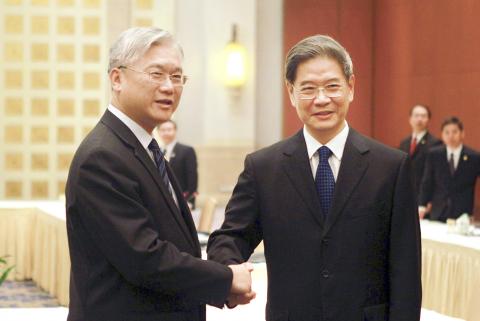 Mainland Affairs Council Minister Andrew Hsia, left, yesterday shakes hands with China's Taiwan Affairs Office Minister Zhang Zhijun in Guangzhou, China.
Photo: Reuters
At the time, China invited Taiwan to negotiate over the "one China" principle, Hsia said, prompting Taipei to propose the concept of each side of the Taiwan Strait verbally expressing their adherence to the principle.
"China respected and accepted Taiwan's proposal, which later became known as the '1992 consensus,'" Hsia said.
"This historical fact must be respected, given that it is this very consensus that has facilitated the institutionalization of cross-strait exchanges," he said.
The "1992 consensus," is a term that refers to a tacit understanding between the Chinese Nationalist Party (KMT) and the Chinese government that both sides of the Strait acknowledge there is "one China," with each side having its own interpretation of what "China" means.
However, the consensus has been a subject of much contention in Taiwan for years.
Former MAC chairman Su Chi (蘇起) said in 2006, when he was a KMT lawmaker, that he had made up the term in 2000 when he was still head of the council.
The Democratic Progressive Party (DPP) and former president Lee Teng-hui (李登輝) have repeatedly denied the existence of such a consensus.
The KMT has adamantly adhered to the "consensus," with Ma urging future presidents to continue pursuing a cross-strait policy based upon it.
At a post-meeting press conference, Hsia said he also told Zhang about the government's stern reaction to China's unilateral decision last month to introduce a new electronic "Taiwan compatriot travel document" card for Taiwanese visitors.
"I jokingly told [Zhang] that our lawmakers had demanded that I lodge a protest over the travel card issue, or I should not bother going home," Hsia said.
He said that both sides have agreed to step up communications over major cross-strait issues.
As for the much-expected proposed policy of allowing Chinese to transit in Taiwan en route to other nations, Hsia said both sides failed to reach a consensus at the meeting, as it would take the government longer to handle Beijing's requests for optimized flight routes across the Strait.
"Hopefully, we will see the implementation of the transit policy by the end of the year," he said.
Comments will be moderated. Keep comments relevant to the article. Remarks containing abusive and obscene language, personal attacks of any kind or promotion will be removed and the user banned. Final decision will be at the discretion of the Taipei Times.