KMT secretary-general apologizes to Hung Hsiu-chu
Chinese Nationalist Party (KMT) Secretary-General Lee Shu-chuan (李四川) apologized to KMT presidential candidate Hung Hsiu-chu (洪秀柱) again yesterday, while KMT Chairman Eric Chu (朱立倫) said he would make an "official announcement" in his capacity as chairman of the party at the planned extempore party congress.
Lee first apologized to Hung and her supporters on Thursday night for recent "developments." Yesterday he said that Chu's decision is not a "power struggle," but to bear responsibility, "as the party's election prospects have never been so dismal."
Lee said his aides had contacted Hung's campaign team in the past few days and he would directly apologize to Hung "if she has the time."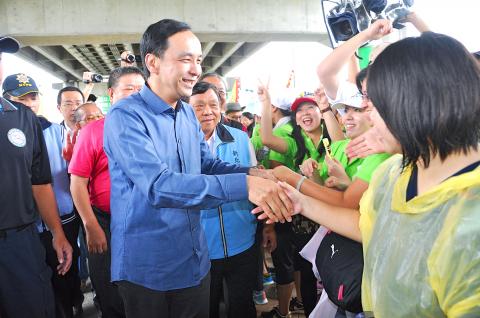 Chinese Nationalist Party (KMT) Chairman Eric Chu shakes hands with supporters chanting "hello, president" at a cultural festival in New Taipei City yesterday.
Photo: Kuo Yen-hui, Taipei Times
Chu yesterday said Lee had made the apology on behalf of the party in his capacity as the KMT's secretary-general.
When asked if he would himself apologize to Hung, Chu responded by saying that party members admire her efforts and that he "might not have worked hard enough on communicating [with Hung]," adding that he would explain the matter and express the party's gratitude to her more clearly when he meets with her "face to face."
An official statement would be made at the extempore party congress, he said, adding that Hung, as the party's presidential candidate, would be at the congress.
The fact that neither he nor Lee had spoken with Hung sparked speculation that Hung has refused to speak with them. Chu said that Hung might want to "take a break and meditate," emphasizing again that "the party is a family."
Asked whether he would join the presidential race without resigning as New Taipei City mayor, the party chairman said the question was "a hypothetical one," and that all the details would be decided and announced during the congress.
Comments will be moderated. Keep comments relevant to the article. Remarks containing abusive and obscene language, personal attacks of any kind or promotion will be removed and the user banned. Final decision will be at the discretion of the Taipei Times.