Activists brand ARC-checking app discriminatory
A new smartphone app aimed at checking the validity of Alien Resident Cards (ARC) encourages discrimination, Taiwan International Workers Association (TIWA) activists said yesterday during a protest outside the National Immigration Agency (NIA) in Taipei.
Protesters shouted slogans calling for the app to be withdrawn and performed a skit in which a foreign worker was repeatedly "shot" with a cellphone mounted on a scan gun prop.
"This kind of an app treats all foreigners — especially blue-collar foreign employees — as suspects to be monitored," TIWA member Betty Chen (陳容柔) said.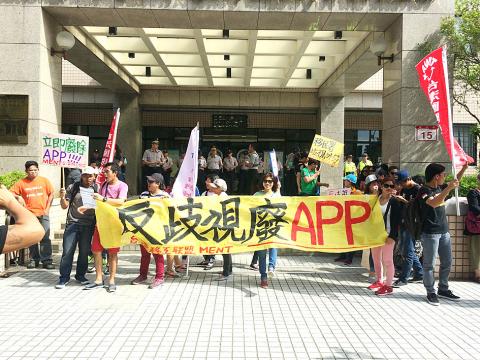 Taiwan International Workers Association members demonstrate outside the National Immigration Agency in Taipei yesterday.
Photo: Liu Ching-hou, Taipei Times
Chen said that the NIA had taken its executive authority "to the limit" by using a "loophole" in the Personal Information Protection Act (個人資料保護法) that allows anyone with a cellphone to become a "big brother."
"Anyone with a cellphone can download the app and require a blue-collar worker to present his ARC for verification," she said.
The app allows users to scan the barcodes of all ARCs issued after 2012 and verify that they match the cards' serial number and period of validity in NIA databases.
Taiwan International Workers' Association researcher Wu Jing-ru (吳靜如) said that employers are already required to send copies of foreign workers ARCs to the immigration agency as part of the hiring process, panning NIA claims that the app is a necessary convenience for employers and helps them avoid getting fined for hiring illegal workers.
"Those who hire illegal workers do so because they are illegal — whether it is because illegal workers are cheap labor, or because they are easier to control, or for any other reason, employers deliberately choose to employ illegal workers, so there is no way this app will achieve the National Immigration Agency's policy objective," she said, adding that most blue-collar workers would not "dare to say no" when asked to present their ARC cards because of the pressure put on them by Taiwanese society.
Academica Sinica Institute of Ethnology senior researcher Tere Silvio said the app was "completely redundant" because the legality of workers was already verified as part of the normal hiring process.
"It is encouraging people to create a really horrible social atmosphere in which people feel like they are being asked or it is their responsibility to make sure that their neighbors are all genuine [and] have the right to be here," she said.
NIA Information Management Section Director Lin Yi-chu (林逸麈) said the app was not intended to be discriminatory, adding that employers had to apply to verify ARC data via the NIA's Web site before the app was developed.
Anyone can also conduct verification of a National Identification Card data through the Web site of the Ministry of the Interior's Department of Household Registration, he said.
Foreigners can reject non-official requests to present their ARC for verification, he said.
Comments will be moderated. Keep comments relevant to the article. Remarks containing abusive and obscene language, personal attacks of any kind or promotion will be removed and the user banned. Final decision will be at the discretion of the Taipei Times.