Ko Wen-je under fire over demolition
'ZOMBIE' GOVERNMENT: Taipei property owner Wang Tung-kai said the city issues demolition permits to construction firms and expects them to be nice to residents
Taipei Mayor Ko Wen-je (柯文哲) yesterday came under fire from Taipei residents whose homes have been involuntarily included in private urban renewal projects.
Residents complained over what they said was an avoidance of responsibility by the Taipei City Government over the forcible demolition of a privately owned building last week.
A group of home owners protested in front of the Taipei City Government building, demanding that the municipal government punish Pacific Construction Co (太平洋建設), who on Friday last week tore down a building on Tingzhou Rd (汀洲路) owned by a man named Luo Chin-kuang (羅進光).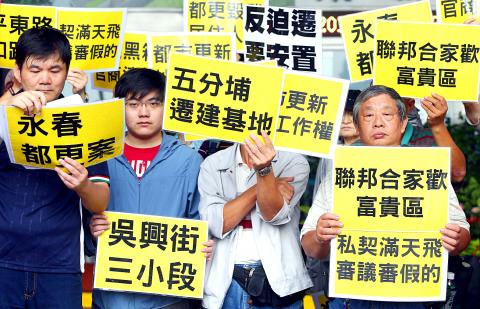 Property rights protesters hold signs at a press conference outside Taipei City Hall yesterday.
Photo: CNA
Luo was the sole holdout in an urban renewal project involving 80 landowners. His building was apparently torn down without notification from Pacific Construction after a protracted negotiation that reportedly spanned more than two years.
The protesters said Pacific Construction obtained a permit for the demolition because of loopholes in the Urban Renewal Act (都市更新條例), adding that city government inaction would tempt other developers or construction firms to use similar tactics to level people's homes.
Wang Tung-kai (王東凱), a holdout in an urban renewal project in Taipei's Yongchun community in Xinyi District (信義), said the the city's issuance of a demolition permit to a construction firm is no different from arming it with a knife to quash dissents.
"The government issues demolition permits and expects construction companies to be nice while negotiating with landowners, but how can you negotiate when a blade is pressed against your neck?" Wang asked. "In this situation, asking construction firms to settle disputes with landowners is nonsense."
"A construction company took a dump on the Taipei City Government before the Mid-Autumn Festival," Wang said. "The waste is still there, but the city government, like a zombie, does not know how to react."
"Dr Ko, the city government needs ECMO treatment," he said, referring to extracorporeal membrane oxygenation, a life-support system Ko worked on during his time as a physician.
Taiwan Association for Human Rights campaigner Hsu Yi-fu (徐亦甫) presented a petition submitted by participants of the Housing Movement and signed by Ko in September last year.
"It seems ironic coming here today, because the first point on the petition is: 'end forcible demolition and relocation,'" Hsu said.
"A year after Ko signed the petition, his promise is a bounced check," Hsu said.
Attorney Tsai Yi-ting (蔡易庭) said that although Article 34 of the act allows residents to apply for construction and demolition permits for urban renewal, Article 36 says that demolition must be carried out by a local government.
Furthermore, the Urban Space Rezoning Enforcement Act (市地重劃實施辦法) says that if landowners refuse to relocate or tear down their buildings within a certain time after the announcement of a project, the developer should request a local court to rule on the legitimacy of demolition, Tsai said.
"If the court upholds a decision to tear down a building, its civil affairs execution department would carry out the demolition," he said.
Alternatively, the developer could entrust the demolition to the local government, Tsai said.
"In other words, under no circumstances is a construction company allowed to tear down people's houses without consent, and Pacific Construction's act has contravened the law," Tsai said.
Taipei Urban Regeneration Office division head Chiang Chung-hsin (江中信) declined to comment on whether the city government would punish the firm, saying only that he would pass on the demonstrators' opinions to an internal review.
Comments will be moderated. Keep comments relevant to the article. Remarks containing abusive and obscene language, personal attacks of any kind or promotion will be removed and the user banned. Final decision will be at the discretion of the Taipei Times.