Hydis protests 'should be tolerated'
Police should drop "harassment suits" against activists for Hydis-related protests, labor activists said yesterday during a protest outside the Taipei District Court.
"Even if marching causes temporary inconvenience to social order, we were right to stand up to the evil corporation, the Yuen Foong Yu [YFY] Group, that has influenced hundreds of workers," Taiwan Higher Education Union organization department director Lin Po-yi (林柏儀) said, promising that activists would "fight to the end."
"Our social movement should be tolerated in a society which is reasonably free," he said.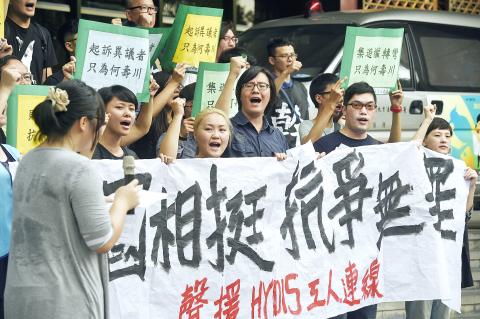 Members of labor organizations yesterday protest outside the Taipei District Court, calling on police to drop what they said were "harassment suits" against local activists for Hydis-related protests.
Photo: George Tsorng, Taipei Times
Lin was one of eight people who were charged with causing "humiliation" and property damage, obstructing public business and demonstrating without a permit.
They were supporting South Korean workers in a protest against the closure of YFY's (Hydis) plasma display manufacturing factory in South Korea.
"Our nation has never cared about resolving problems — it only cares about 'resolving' those who bring them up," said Chen Hsiu-lian (陳秀蓮) a member of the National Alliance for Workers of Closed Factories, who was against the government for deporting South Korean protestors from the nation and blacklisting them to prevent them from returning.
"This sort of nitpicking makes it appear that the nation is trying to use all sorts of 'crimes' to suppress demonstrations — none of the charges are equivalent to the small amount of disorder or inconvenience created by the value of freedom of speech," Taiwan Association for Human Rights legal specialist Hsu Jen-shuo (許仁碩) said.
He said police had started using "harassment suits" against demonstrators because the failure rate of lawsuits under the Assembly and Parade Act (集會遊行法) had increased over the past 10 years.
Comments will be moderated. Keep comments relevant to the article. Remarks containing abusive and obscene language, personal attacks of any kind or promotion will be removed and the user banned. Final decision will be at the discretion of the Taipei Times.