Kiting festival lands at Baishawan
A two-day kite festival scheduled for today and tomorrow at Baishawan (白沙灣) in New Taipei City's Shihmen District (石門) is expected to draw expert kiters from across the nation and around the world, the New Taipei City Government said.
City government officials said the 16th annual New Taipei City North Coast International Kite Festival would not only feature traditional kite flying, but also kitesurfing displays on the water, allowing kite experts to show off their skills.
French kite artist Jean-Paul — known for his fluid kite designs that incorporate elements signifying the wind and local terrain — would be featured at the festival, while Belgian kite designer Alain Micquiaux — known for making symbolic kites out of unique environmental features — has also been invited for the first time, officials said.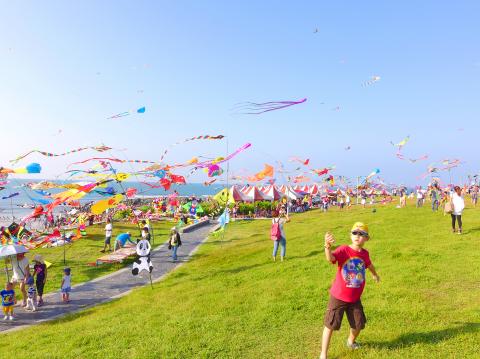 Visitors fly kites at the New Taipei City North Coast International Kite Festival at Baishawan last year.
Photo: Li Ya-wen, Taipei Times
Micquiaux is also known to utilize bamboo and paper in his designs to display an authentic "Asian" element in his works.
Shihmen District Office director Liu Shu-fen (劉淑芬) said that this year's festival would not only feature kites, but also windmills and chimes, adding that there would be on-site workshops that would allow festival attendees to make their own kites, windmills and chimes.
"There will also be other cultural-creative products made available to visitors in the hope that they will be impressed with their visit to the 'home of the wind,'" Liu said.
Meanwhile, Chunghwa Post Co said that its Sanchong District (三重) branch will setup a temporary post office at the festival to provide postal services, adding that the post office had designed "kite" stamps that will be on sale for collection and use.
Comments will be moderated. Keep comments relevant to the article. Remarks containing abusive and obscene language, personal attacks of any kind or promotion will be removed and the user banned. Final decision will be at the discretion of the Taipei Times.