Cross-strait affairs key issue in elections: King
'1992 CONSENSUS': The so-called agreement has kept cross-strait relations stable, and Taiwan should not think it can do whatever it wants, King Pu-tsung said
Cross-strait affairs will remain a core issue in the presidential election next year, and Democratic Progressive Party (DPP) presidential candidate Tsai Ing-wen's (蔡英文) is shooting herself in the foot by denying the so-called "1992 consensus," senior presidential adviser King Pu-tsung (金溥聰) said yesterday.
The pan-green camp clearly thinks it has the upper hand and hopes that there will be no unexpected changes in the campaign, King said in a UFO Radio interview.
"As the opposition party, they [the pan-greens] have aggressively attacked the ruling party. Now they hail tolerance and reconciliation, because they do not want any surprises," King told radio show host Tang Hsiang-lung (唐湘龍).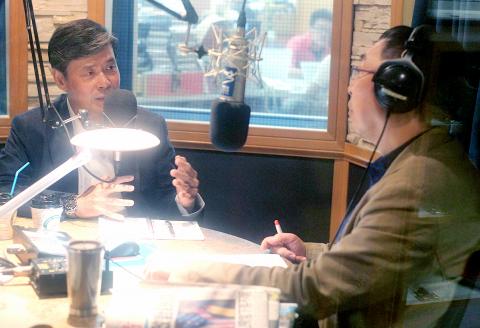 Senior presidential adviser King Pu-tsung, left, speaks to program host Tang Hsiang-lung during an interview with UFO Radio yesterday in Taipei.
Photo: CNA
"By contrast, the pan-blue camp is in a disadvantageous position, and it needs an 'unexpected variable' to have a chance to turn the tide and win," he said.
This "unexpected variable" could be Chinese Nationalist Party (KMT) presidential candidate Hung Hsiu-chu (洪秀柱), who needs to formulate new campaign strategies to turn her situation around and win.
King added that cross-strait affairs would always be a core issue in a presidential election, and they are being closely watched not only by people in Taiwan and China, but also those in the US and Japan.
This is a key difference between a presidential and a local election, as people are more concerned about the impact of choosing a president who could change the nation's cross-strait policies, he said.
Asked about Tsai's position on cross-strait relations — which she has said is to maintain the "status quo" — King said that the "1992 consensus" has helped keep cross-strait relations stable with its "strategic vagueness."
"Tsai rejected the '1992 consensus,' and it is very difficult for Tsai to go back on that position — but you never know. Some people change their minds when the situation changes," King said.
Faced with a rising China, King said that Taiwan should not think it can do whatever it wants.
The nation needs wisdom to gain the most favorable position in international politics, he said.
Denying the "1992 consensus" would upset China and would be "shooting yourself in the foot," he said.
King also said that he is not involved in the presidential election campaign.
The "1992 consensus" refers to a supposed understanding reached during the cross-strait talks in 1992 that both Taiwan and China acknowledge that there is "one China," with each side having its own interpretation of what that means.
Comments will be moderated. Keep comments relevant to the article. Remarks containing abusive and obscene language, personal attacks of any kind or promotion will be removed and the user banned. Final decision will be at the discretion of the Taipei Times.